You undoubtedly want to make things as simple as possible for your consumers if you manage an online store. Whether it is a matter of design of your online store, purchase, payment methods, or shipping, everything should be in the right order if you want to trigger customer satisfaction.
When it comes to selling, one of the most important things is presenting your product. But, when it comes to making a website for your online store, one of the most important things is the platform you use for creating and managing your website. WPMU DEV is an all-in-one platform that can provide that. Check out their plans here and get 20% off.
WooCommerce is one of the most popular plugins for creating an online store since it gives you complete control over your site's features and allows you to tweak them to your desire. You also have a chance of adding numerous useful plugins which can help you improve the shopping experience in your online store.
One of the plugins of this kind is a quick view. Quickly viewing facilitates exploring your product's basic details, such as its main features, price, and picture, without forcing your customers to go to the product page. It is an efficient and effortless way to present your items that your buyers will definitely love.
What is Quick View
As previously mentioned, the quick view option is a plugin that enables a glance at your products in the form of a pop-up window. This saves your customers time and energy because they don't have to go to another page to see some basic features of the product or its pictures. It exposes the product, makes adding it to the cart easier, and simplifies the whole shopping concept.
While looking for a perfect product, you have probably encountered the lack of this feature in some online stores. After a while, switching back and forth between the main page and the product information pages can become tedious. Sometimes it can even result in giving up from the search and purchase.
To prevent that from happening in your online store, here is a little help choosing the right plugin. Here are five best quick view plugins that you can download for free and add to your website to make it more dynamic: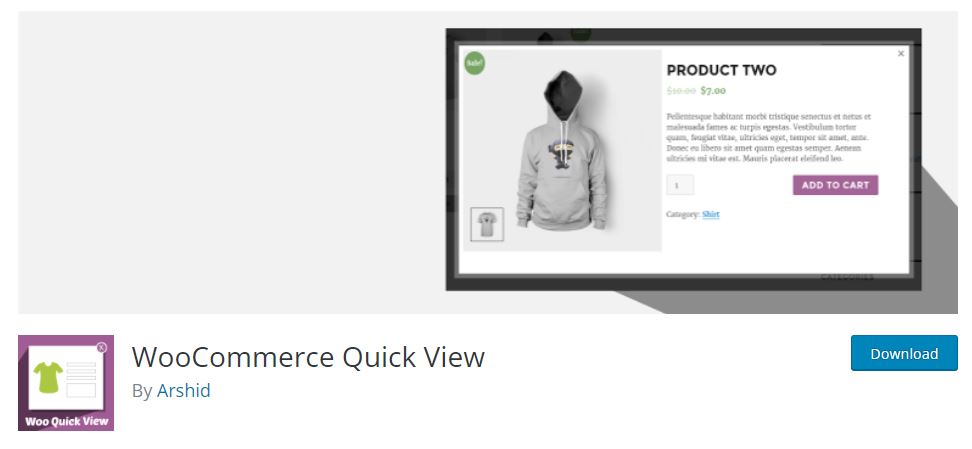 This plugin could be described as the most straightforward quick view plugin which is easy to use. It will let your customers see the product details without opening the product details page.
It is a must-have because it offers easy navigation between the products by pressing 'next' and 'previous' buttons. When you install it, it will automatically add a quick view option to all of your products. You will see the product title, its picture, price, and quantity in the lightbox. You can immediately add it to your cart, as well.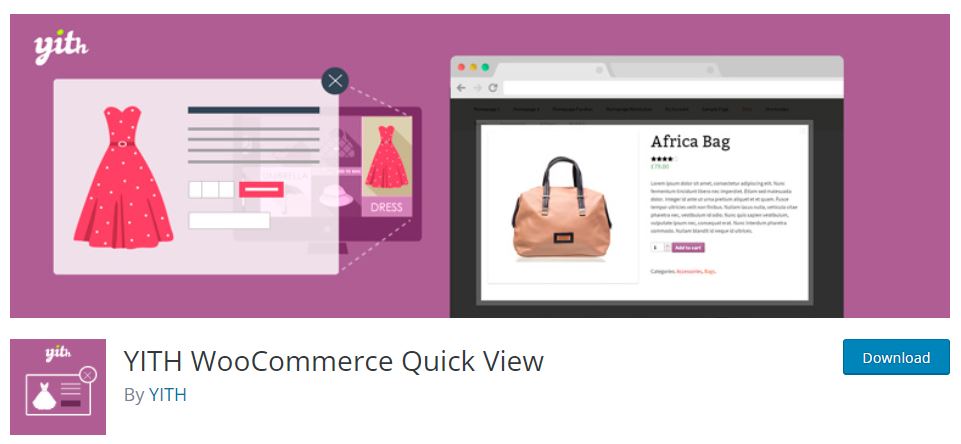 YITH WooCommerce Quick View is among the most popular plugins offering this option. Although the free version might seem a little bit limited, there are plenty of features that you can include and adjust.
For example, you can choose the look of your quick view button, navigate between the products, choose all the information you want to be displayed in a pop-up window, customize the colors and background, etc.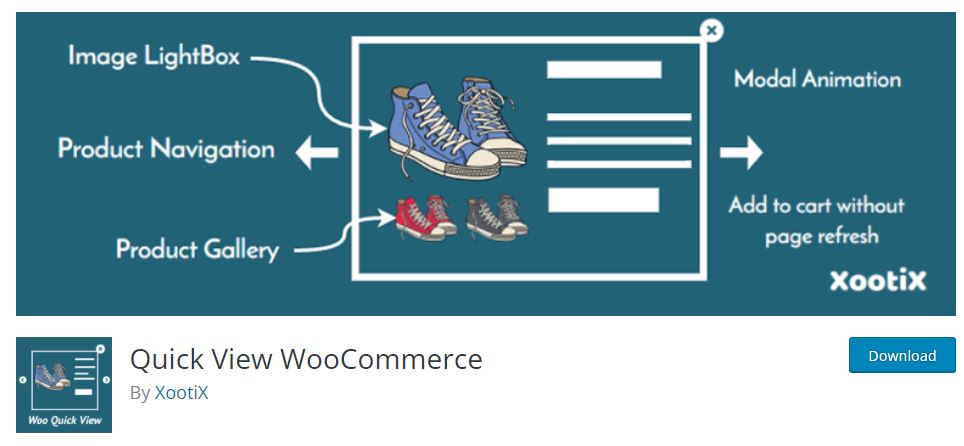 This plugin is described as lightweight and straightforward, which is always an excellent choice for your online store. It is completely adjustable when it comes to displaying the features in a lightbox and its design.
Quick View Woo Commerce by XootiX also allows browsing between the products and promises original animations for your pop-up window. A Live Demo of the plugin is available here.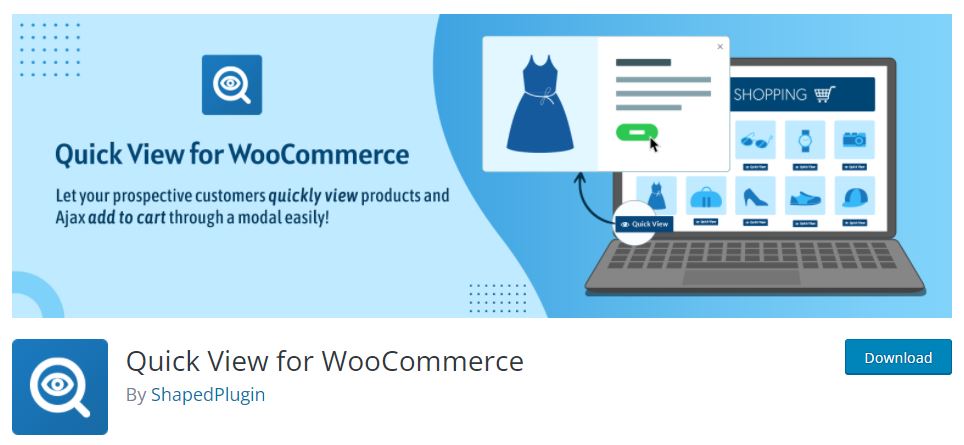 This quick view plugin offers a lot of free and premium features that will make your customers happy. You can customize it the way you want, move the quick view button, change its color or padding, choose a fantastic lightbox effect, change the button text or translate it, add it to the mobile device version, and many more valuable features.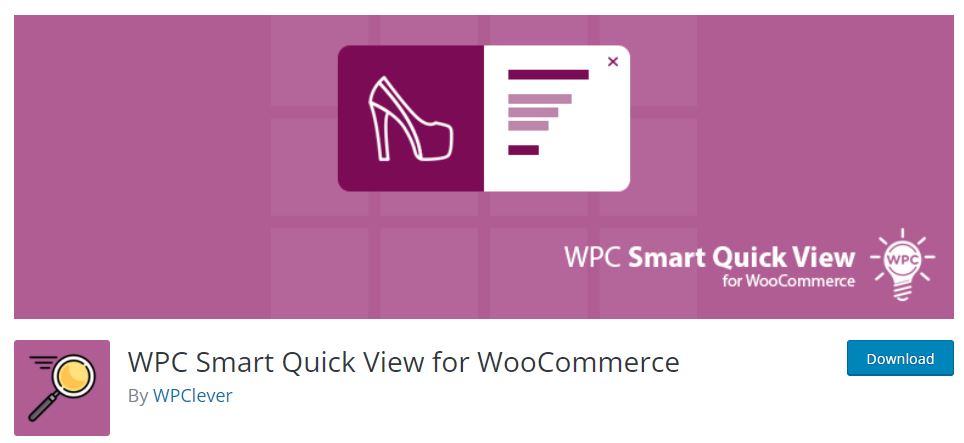 This plugin promises the improvement of the site ranking due to its creative features. It is highly adaptable, fully optimized for SEO, and compatible with all themes. It offers a quick view option in the form of a button, link, or pop-up window.
You can choose among various effects and button positions without even doubting that your store will look amazing on any device.
Bonus Essential Plugins
WooCommerce Table Rate Shipping is a super-useful plugin that adds on the built-in Shipping options of WooCommerce with some powerful features both in the free and PRO versions. It can be used to calculate shipping based on destination – country, state or zip/postcode, weight, item quantity, and cart total. Combined with shipping classes you can create an unlimited number of rules, giving you precise control over the cost of shipping.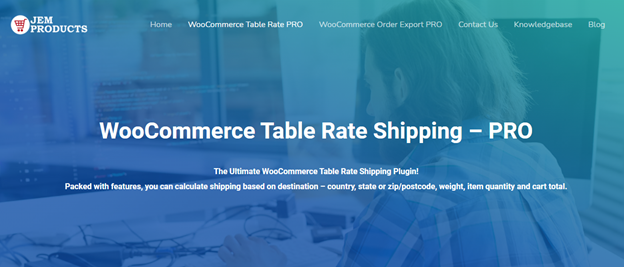 The second plugin that is a must-have for online stores is WooCommerce Order Export which lets you export the orders that are coming in. But it's not just a simple export plugin that saves your database as a file. You get a lot of options like the ability to reorder the columns as you need, select only those columns that are relevant, filter the data, and more. A free version is also available.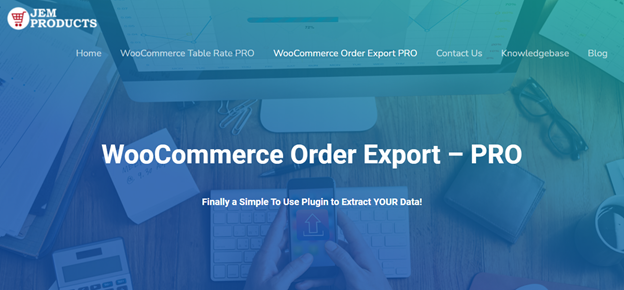 Conclusion
Customer satisfaction should always be the main priority of every seller, and including this feature in your online shop could certainly elevate its level. The more dynamic and appealing your online store is, the more customers will gladly come back to you when they need another product.
Quick view is a perfect way to do that, no matter which one you choose.