WordPress as a popular content management system is so widespread and used today precisely because it allows you to realize a multitude of possibilities, no matter what niche you come from, to enhance your online presence.
Among other things, this includes CRM, customer relationship management. Easy to use, save additional costs, add unlimited users and contacts, and integrate WooCommerce are just some of the reasons WordPress CRM plugins are such a good option.
Also, one more important thing related to WordPress is hosting as well. We like WPMU DEV Hosting because it has a lot of unique and strong hosting features that you won't find anyplace else. Check it out for yourself and take advantage of a 20% discount on any of their hosting plans.
Apropos, we will look at some of the best CRM WordPress plugins, which will help you manage all the details related to your customers to create a loyalty base that will help you realize the desired goals of your online presence.
This free CRM plugin offers you a multitude of options. It is entirely free to use, and of course, some extensions are optional. Jetpack CRM is a straightforward and practical plugin. It is also important that this plugin is built into your WordPress site and you have complete control over it.
Although the users of this plugin are from different groups and many people are using it, the most numerous could be said to belong to some of the following groups: eCommerce sites, agencies & pro freelancers, start-ups & non-profit, and local businesses & small teams.
Managing all customers, and clients in one place, quote and invoice builder, making quotes and customer proposals, integrations with WooCommerce, PayPal, Stripe, and much more is on the list of what this plugin will offer you.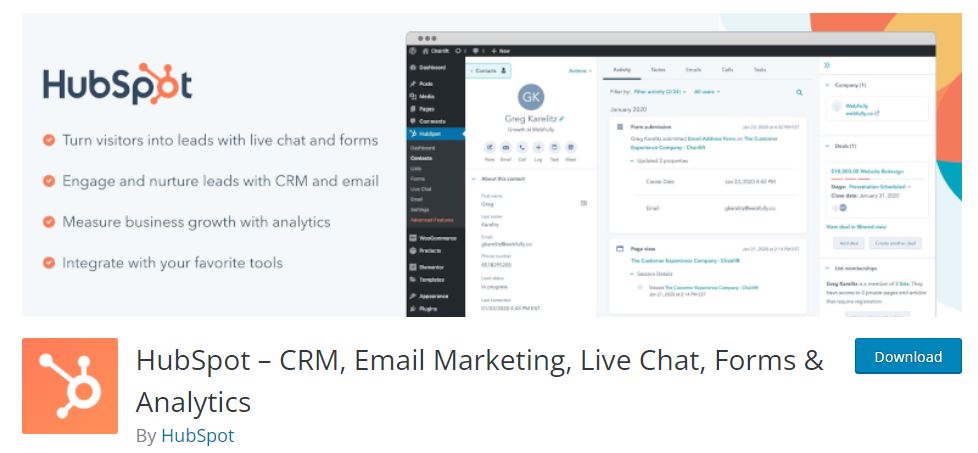 Another great plugin will allow you to manage your E-commerce business better and turn visitors into loyal customers. This free plugin allows you to do so through the following options and features: live chat and chatbots, email newsletters, managing your entire contact database, and of course, measuring the growth of your business in real-time through customizable analytics dashboards and numerous integrations.
So, HubSpot provides you with everything you need to achieve the growth of your business and, at the same time, delight your visitors and customers.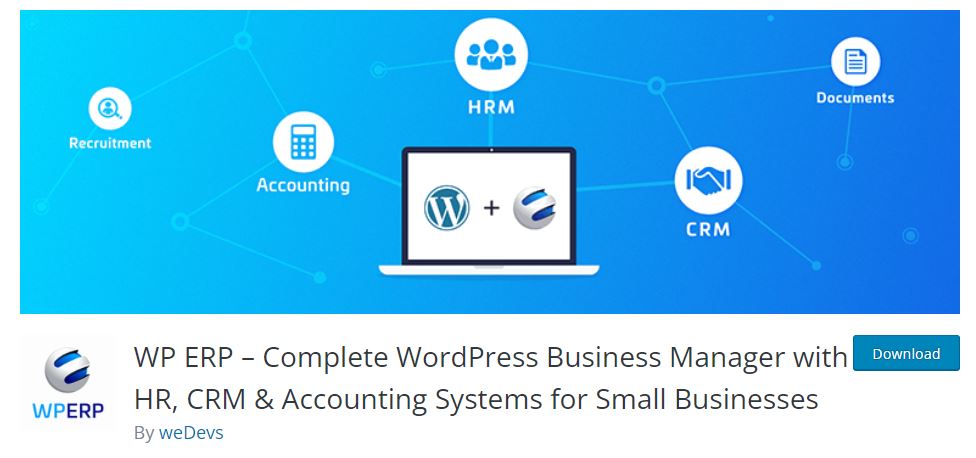 When it comes to CRM for WordPress sites, the free version of this plugin provides you with absolutely everything you need to manage your business and includes powerful pre-built three core modules: HR, CRM, and Accounting. Just one activation click separates you from using the above plugin as it is very easy even for beginners.
Converting leads to customers with this plugin is now very simple because the features of the free version of this plugin include: contacts with life stages and grouping of contacts, making notes per client, scheduling appointments and calls, filtering contacts, assigning contacts and tasks, reporting on CRM activities about customers and business growth and more.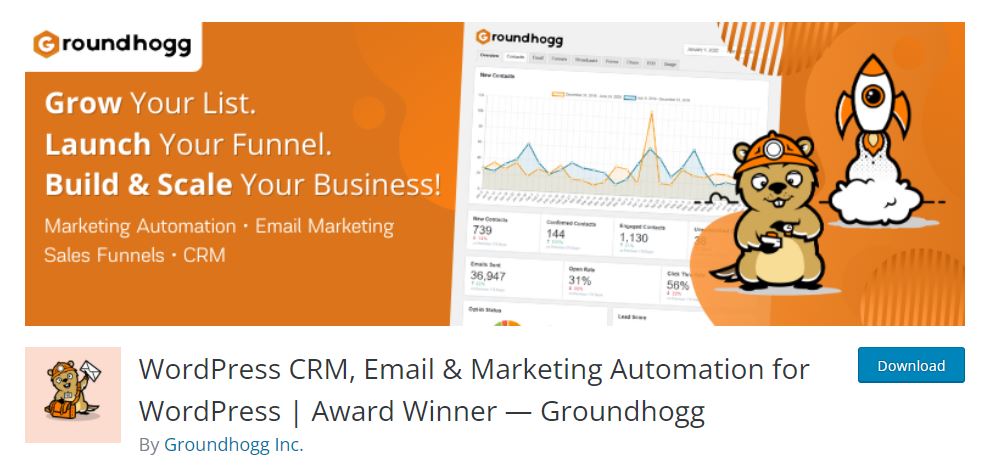 One more plugin to help you convert your leads into customers and make more sales whether you are an agency, WordPress developer, LMS/Course Creator, WordPress freelancer, or CRM implementation service provider. Namely, by using this plugin, you are not limited to the number of contacts, funnels, or automation, or the number of emails sent.
You will have the necessary and desired analytics and data as well as control over it, which will surely help you improve your online presence. Of course, there is much more than this plugin will offer you, including various extensions and integrations.
Conclusion
Considering the importance of CRM in every business today, we hope that we have made it easier for you and introduced you to the world of these powerful plugins, which you need to consider, mainly because of their free offer but so many good features.