Social media came to the world as a tool for reaching relatives and friends and turned to be one of the best tools for business presentation and development. Also, social media accounts and content play an important part in expanding and reaching new customers.
People spend a lot of time online, and social media platforms are often the first place where they look for new products or interesting companies for collaboration. Business quality always takes the first place, but content and communication on social media can be the first step toward the customers.
Creating quality content and posting it online for interaction with followers is not an easy task. Still, luckily some tools can help with creating and managing content and reaching many people online.
In this article, we will suggest the top 5 social media management tools that are helping millions of accounts to make the best connection with their followers.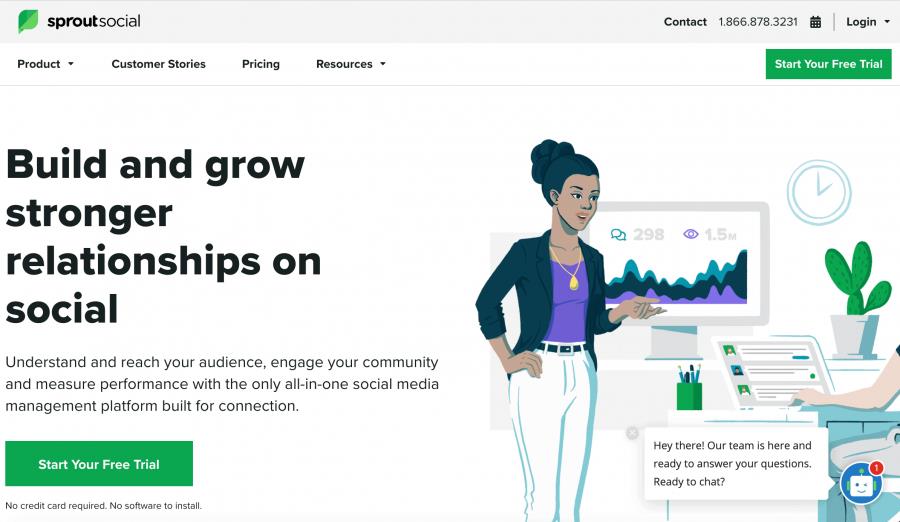 Sprout Social is a compelling platform with a simple dashboard for managing all social media account effortlessly. It is mainly used by social media agencies and medium-sized businesses that want to work and schedule posts individually, with the possibility to track analytics and manage team workflows.
It offers an all-in-one feature to plan, create, manage and post social content, with a great option for tracking the analytics of every post, helpful in developing future strategies. Its feature of good customer communication and listening insights aids marketing strategy and brand expansion.
They offer three pricing plans, each available for a 30-day trial. The Standard plan starts at $89 per month, with a limited list of features and five social profiles. It is mainly used for starters in business.
The most popular plan is Professional with ten social profiles managed from one place and a longer list of features, detailed reports, analytic tools. It costs $149 per month.
Advanced plan costs $249 per month, with advanced features needed for businesses expecting bigger growth. Also, all plans offer mobile apps.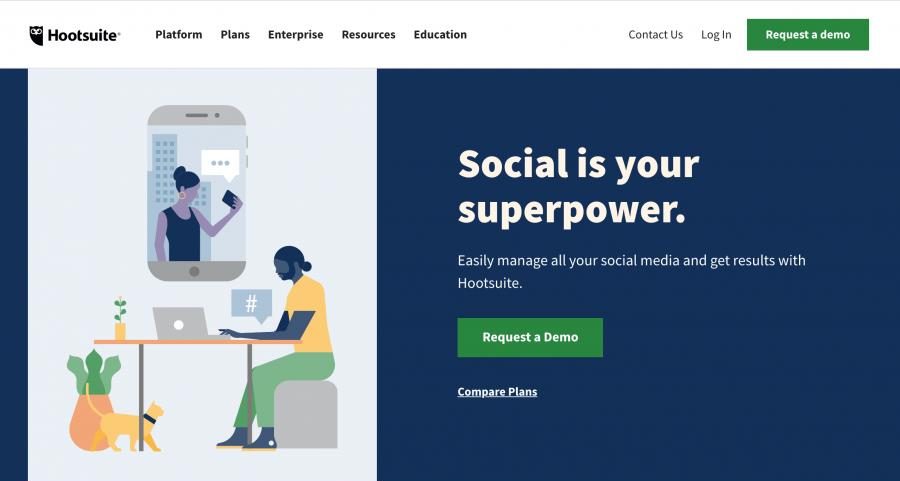 HootSuite is a popular tool primarily because of tracking and analytics tools. It offers detailed reports of all created posts and users. Posts and messages can be scheduled and tracked on a publishing calendar which keeps business organized.
HootSuite tools affect marketing, and the list of followers grows. They offer a 30-day trial, with four pricing plans, starting with $49 per month, good enough for small businesses managing ten profiles. The Team plan costs $129 for 20 profiles.
Business and Enterprise plans have advanced features and can be adjustable to the size of the business and clients.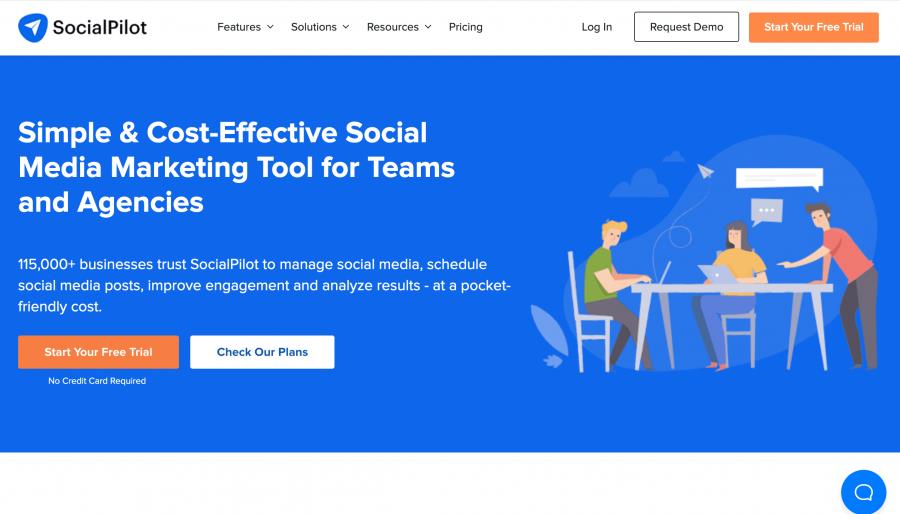 Social Pilot is another excellent platform adaptable for any business but used mainly by small agencies working with many clients. It offers unlimited and bulk scheduling of posts, with detailed analytics and helpful customer support.
They offer a 14-day trial which can be upgradeable into one of four pricing plans. The most straightforward plan is Professional, with one user to manage ten social media accounts. It is good for a one person that likes to keep clients' accounts organized. It costs $25.50 per month.
The Small Team plan costs $42.50 per month, allowing three users to manage 25 accounts and a few more features. The Studio plan is for five users and ten accounts to manage, with a price of $85 per month.
The largest package is for small agencies with an option of 10 users and 75 accounts to manage. It offers more detailed client management tools. These plans, however, have limits on posts per day, all accounts/clients combined.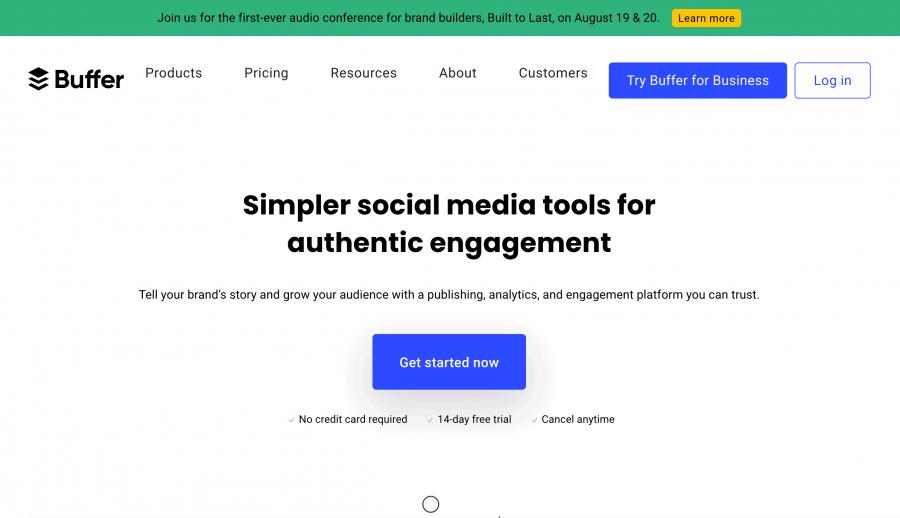 Buffer is considered the most affordable social media management tool. It's a fantastic tool for producing, scheduling, and posting content. Every post can be tracked and analyzed for better presentation.
Engagement and interaction with the followers are managed through some features, which helps with business growth. A Buffer is an excellent option for small teams, and it even has a free plan available for one user to manage three accounts.
Other pricing plans have a longer list of features adjustable by the user, starting with the $5 per month.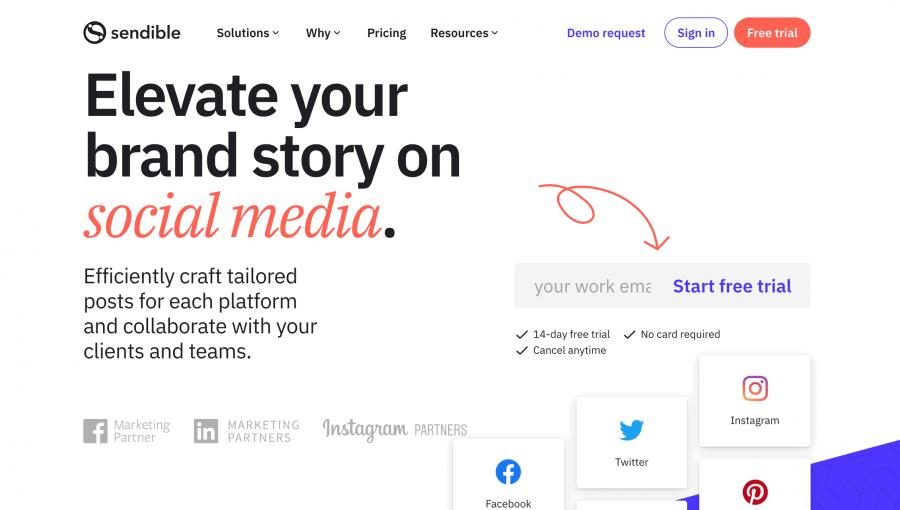 Sendible is an all-in-one tool for managing social media content and growth. Over easy-to-use and straightforward dashboard with content and message bulk scheduling, automatic posts, post and user analytics with detailed reports, and excellent community engagement.
All of these features help with marketing and high reach to the new followers. It starts with a 14-day trial period upgradable to 4 different pricing plans starting with The Creator plan, $25 per month. It goes up to the Expansion plan and $340 per month with a longer list of advanced features, a more significant number of users, and more allowed profiles to manage.
Conclusion
The importance of social media in all aspects of presenting and business is increasing, and it is critical to get it properly. With that in mind, the number of tools that can help with creating and posting professional content is increasing.
Each of these tools has advantages and disadvantages, and it is important to find what suits your business and budget best. But, it is sure that each of them will help you and make your content more professional and attractive to a growing audience and new customers.