In today's competitive web hosting environment, different hosting solutions like shared, VPS (Managed and Unmanaged), reseller, and dedicated hosting services have become the talk of the town.
MilesWeb is the one-stop destination providing cheap windows VPS services. It is one of the prominent web hosting companies serving more than 30,000+ clients worldwide in different industries.
MilesWeb is the leading Windows VPS hosting India. They offer the best features and resources to power your websites or web projects. Let us have an overview of how Windows VPS web hosting from MilesWeb is reliable and fast for users.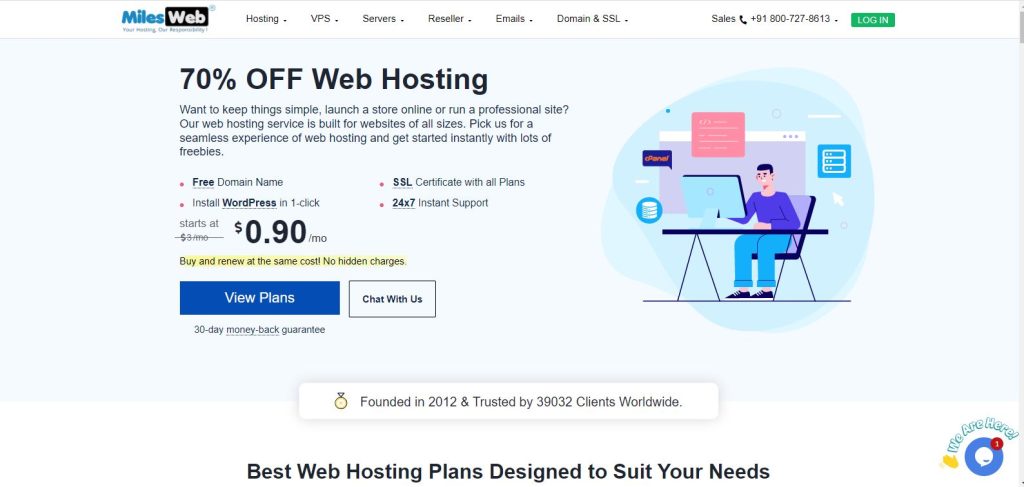 Know All About Windows VPS Hosting from MilesWeb
MilesWeb provides web hosting services to web applications compatible with the Windows operating system. For instance, ASP.NET websites require a Windows web hosting environment.
By availing of this prominent service by MilesWeb, users will get guaranteed resources. With every Windows VPS plan, users get guaranteed resources that will not be shared with other server hosting accounts. These servers are mostly compatible with the Windows OS.
You can purchase Windows VPS hosting plans from MilesWeb and experience high-speed, top-notch security and performance. Each virtual machine on their server is fully isolated from other tenants, and also you can manage your Windows server easily through an add-on Plesk panel.
What Different Plans Does MilesWeb Offer?
MilesWeb offers six Managed Windows VPS web hosting plans to users.
The plans are W1, W2, W3, W4, W5, and W6, respectively. These six plans come up with resources like storage space, RAM, and CPU.
The basic plan starts with Rs. 1,260 per month that extends up to Rs. 12,060 per month. Also, with every Managed Windows VPS plan, users will get one dedicated IP address and a free SSL certificate to make web applications safe and secure. Below we have discussed what makes them a prominent option for customers.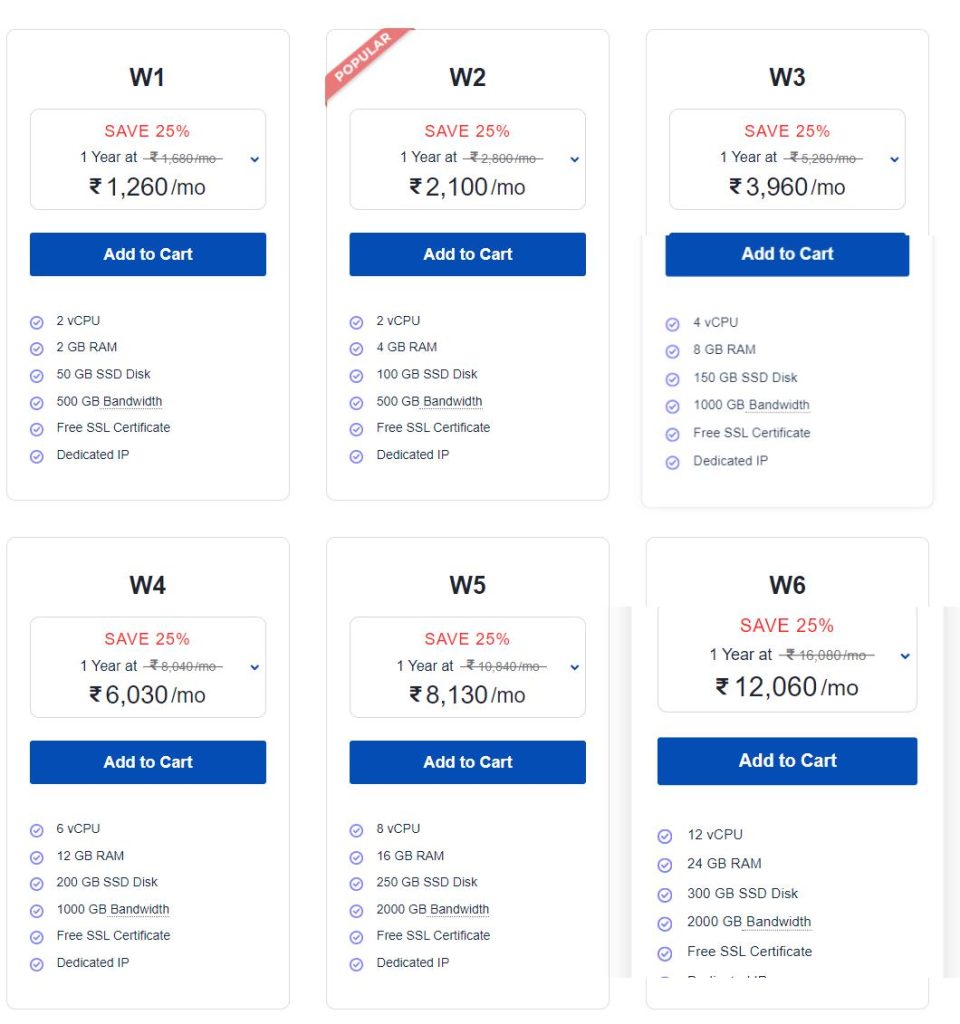 The resources you get with each Windows VPS hosting plan ranges as follows:
2 vCPU to 12 vCPU
Bandwidth ranges from 500 GB to 2000 GB
50 GB SSD Disk to 300 GB SSD Disk
Free SSL Certificate
1 Dedicated IP
Do They Offer Discounts?
Yes, MilesWeb does offer discounts on their web hosting plans frequently. Currently, on their Windows VPS hosting plans, you can save 25% off after the price which is mentioned above.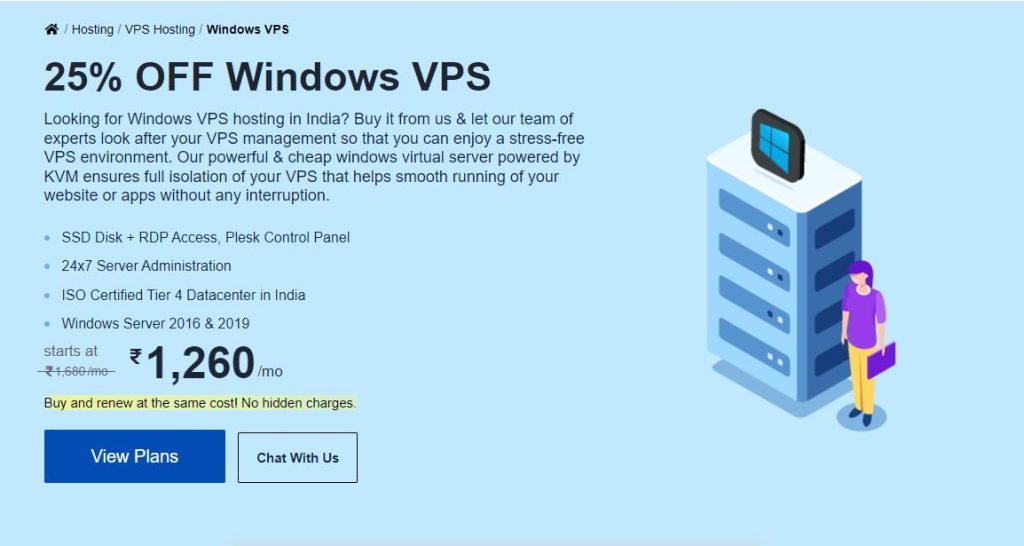 MilesWeb's Windows VPS Hosting Features
1. Solid-State Drives for Higher Performance
MilesWeb's Windows VPS servers are built with advanced SSDs having higher performance. Thus, customers do not witness performance or reliability issues while accessing websites or applications.
Customers can access them at a blazing fast speed with maximized performance.
2. Full Admin Access
Users want complete access over their Window VPS servers. MilesWeb meets this objective by providing full administrative control over servers.
From browsing data to installing third-party applications, the web hosting company's managed services give users the space for it.
3. Supports Advanced Applications
MilesWeb's Windows VPS web hosting server comes up with advanced applications that facilitate users' smooth web hosting experience. It comes with the latest extensions of IIS, ASP, ASP.NET, and PHP, followed by the data support of MySQL.
4. Control Panel
Users get a control panel Plesk to manage Windows VPS accounts and domains. It is a user-friendly tool used to upload files, manage email accounts of websites, etc. MilesWeb offers three plans for the control panel ranging from Rs 910 per month to Rs 2100 per month.
Users have to pay additional costs to get these panel plans.
5. Dedicated Server Resources
Users get 100% dedicated resources like CPU, RAM, and storage space while opting for the Windows VPS hosting plans of MilesWeb. These resources do not get shared with existing users on the Windows VPS server.
6. Easy to Upgrade Windows VPS Plans
Users can easily upgrade their Windows VPS plans without changing the IP address. Proficient technical experts at MilesWeb ensure there is no data loss during the data migration process.
7. Free Website migration from MilesWeb
MilesWeb migrates all of the users' website data and information to the Windows VPS server at a zero cost. The technical team is 24*7 available to provide assistance and conduct the migration process.
They accomplish this process with zero downtime and ensure no data loss while doing the same. In a nutshell, they carefully migrate data from the old hosting provider to MilesWeb hassle-free.
8. RDP Access
MilesWeb offers RDP (Remote Desktop Protocol), making remote accessibility of computers easy for users.
9. Fully Managed Support from MilesWeb
With Windows VPS hosting, MilesWeb provides 24*7 managed support to users to fix technical glitches. Their helpdesk team is available to answer queries. They have years of experience fixing Windows VPS hosting-related queries in no time.
Customer support executives are available by email and live chat. They respond instantly to your queries and give an apt solution.
How is the Performance of Windows VPS Servers?
MilesWeb's Windows VPS hosting server delivers 99.99% guaranteed uptime. They have Tier 4 data centers equipped with servers with robust hardware and software applications. They make most of the advanced applications and adhere to data security worldwide.
Thus, this entire architecture makes 24*7 availability with no downtime of websites and web applications. Their Windows VPS servers are powered by KVM technology to provide an isolated environment to ensure the smooth running of users' websites or apps without any fluctuation.
Final Words
MilesWeb is the leading web hosting service provider offering affordable solutions to customers. If your objective is higher reliability and scalable Windows VPS hosting, this company is an ideal option for you.
They have high-performance server resources and offer a control panel to simplify all your website management tasks. Their Windows VPS hosting server supports 2016 and 2019 versions.
Besides, MilesWeb's data centers are ISO certified, making them a trustworthy web hosting company.