The first step in building an online business is creating a website. Since we find ourselves in the blossoming digital era, that task is both simple and not. A newbie has a plethora of choices (free and paid), which can become confusing quite fast.
However, before you search for a theme, a font, and whatnot else, we need to cover the basics. One of the most important things to pay attention to is web hosting. And, if you have not heard of it so far, then it is a problem. There is no need to worry, though. That is why you have us. We will explain what it is, why you need it, and share our recommendation.
What Is Web Hosting?
Let us imagine you had a physical office for your business. You would want your files to be in a single place, together, safe and secure. That is what a web hosting provider does for your digital ones. And safety is not the only core function of it.
Web hosting providers supply you with off-site storage for your content. What does that mean? You get to save money, which is always a welcome thing. One can easily redirect those additional funds into further business improvements. Those are valuable functions, are they not? Okay, so, how do you go about finding one?
We know what it is like to sift through various options available. Been there, done that, and came back with a full review of one. Allow us to introduce you to one of the top-notch web hosting providers and all it has to offer. We hope you are ready to meet HostArmada.
What is HostArmada?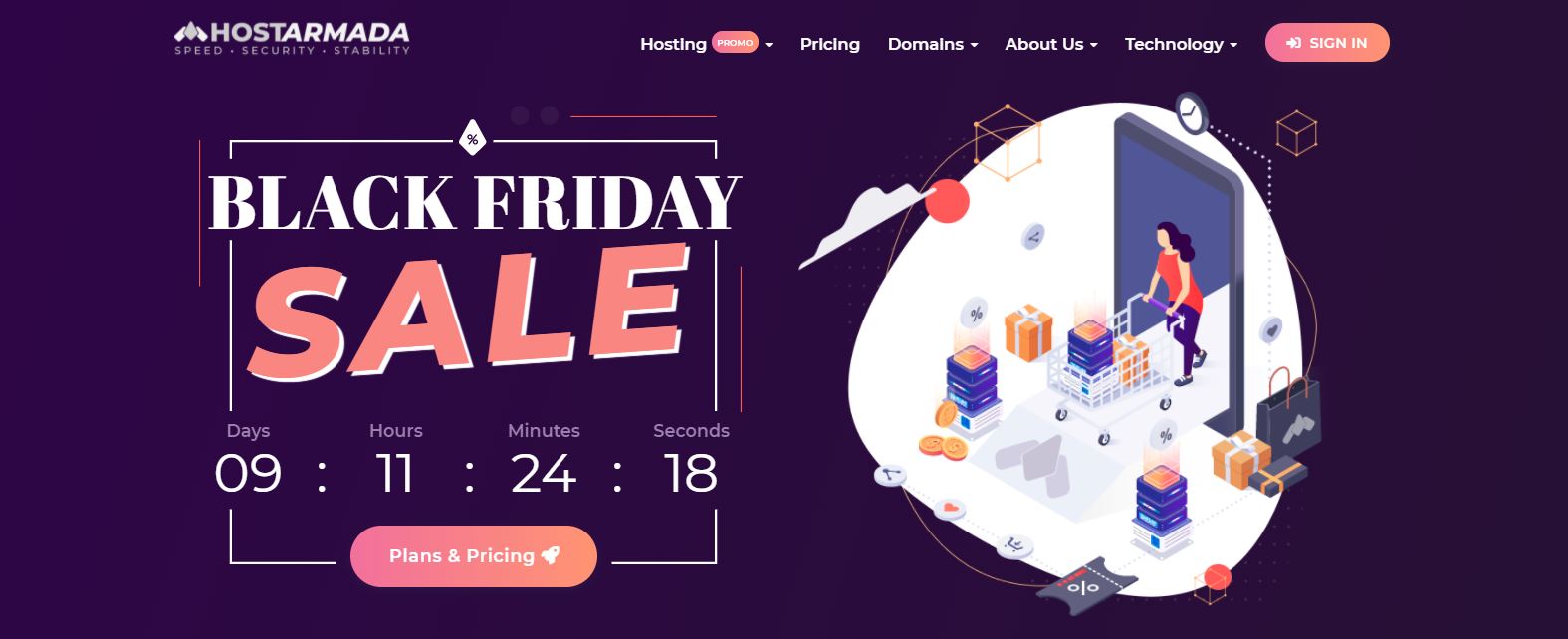 HostArmada is a web hosting service based in the United States. This former newcomer started its web-hosting journey in 2019. Now, it is becoming a very familiar name. You can acquire its services on four different continents.
There are 9 data centers to choose from, all in desirable locations. Your pick is between the USA (Dallas, Newark, Fremont), Canada (Toronto), The UK (London), Germany (Frankfurt), India (Mumbai), Singapore (Singapore), and Australia (Sydney).
HostArmada comes with a clear and precise mission – providing a fast, reliable, and secure Web Hosting Service for all their customers. How do they do that? Through several well-priced hosting packages. Our goal here is to introduce you to their offers, acquaint you with the features, and find The One for your web hosting needs. It is time to see what they have in store for us.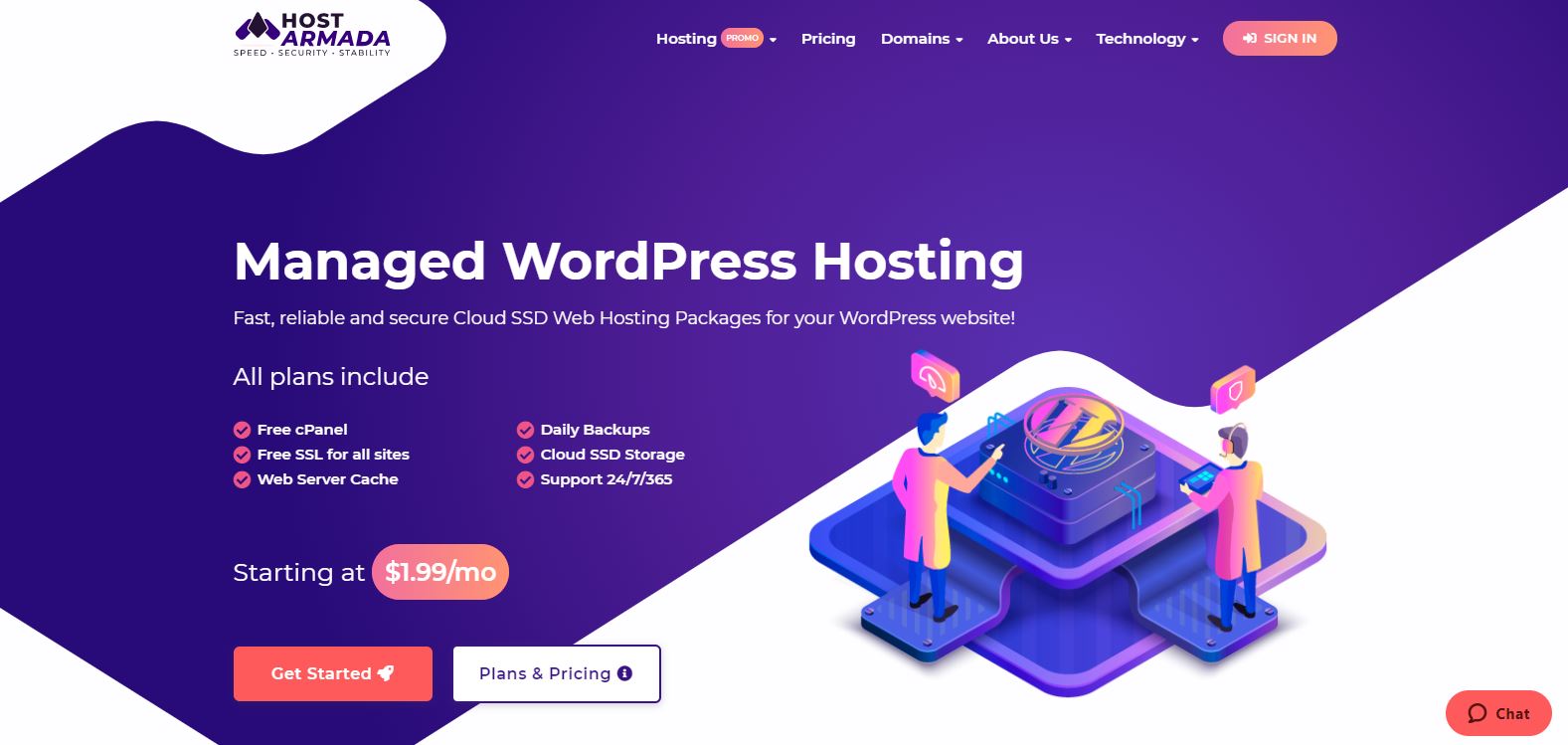 WordPress enthusiasts will not be able to get enough of this one. Got a WordPress site need that needs to be covered? The Cloud WordPress Hosting package has got your back. For a promotional price starting at $2.99 per month, you are unlikely to find a better offer out there.
Features:
Installing WordPress via the One-Click Installer allows customers to deploy WordPress instances without difficulty. They also get a separate configuration for each installation.
Daily auto-backups: Let your site stay healthy and updated with daily off-site backups, which you can restore with just one click.
WordPress Security: HostArmada comes equipped with trailblazing security tech that takes care of every site in the WordPress Hosting package.
SSD cloud storage: provide your storage with the best-in-class SSD drivers (which are available in the WordPress Hosting package).
And a considerable amount features to discover!
There is no doubt in our minds – this is the package for your WordPress sites. Head on over to HostArmada today, and see for yourself.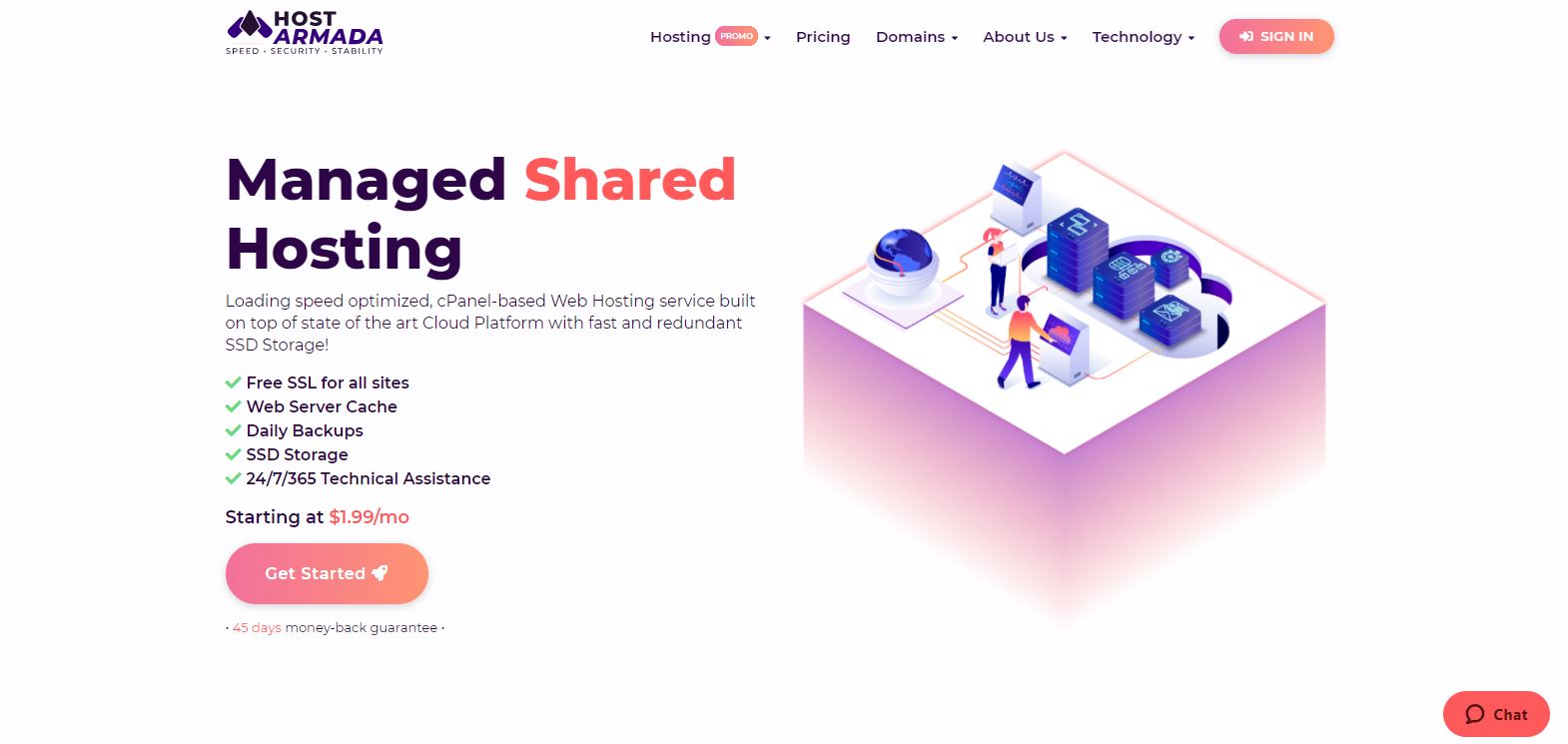 This package is for those that are a bit on the tech-savvy side. Do you ever get a headache because of broken links? And is upgrading the original code taking up unnecessary time? What if we told you about an application that does that for you and enhances the design?
That means you would like open-source applications. And also, HostArmada has just the right package for you. Let us look at the Cloud Shared Hosting package and discover why you will not want anything else.
Features:
One-click App Installer: Get open-source applications up and equipped on your site in the blink of an eye.
SSD Cloud Storage: best-in-class, native SSD Drives available for your storage
Managed Web Hosting: HostArmada promises a healthy, up-to-date web hosting environment for all its Cloud Shared Hosting package users
For every open-source application you host, the Cloud Shared Hosting package will provide you with: application installation, application transfer, visual theme installation and updates, module installation, and application updates, all for free.
This package also starts at $2.99 per month as part of HostArmada's current promo deal. So we ask you, if not now, then when?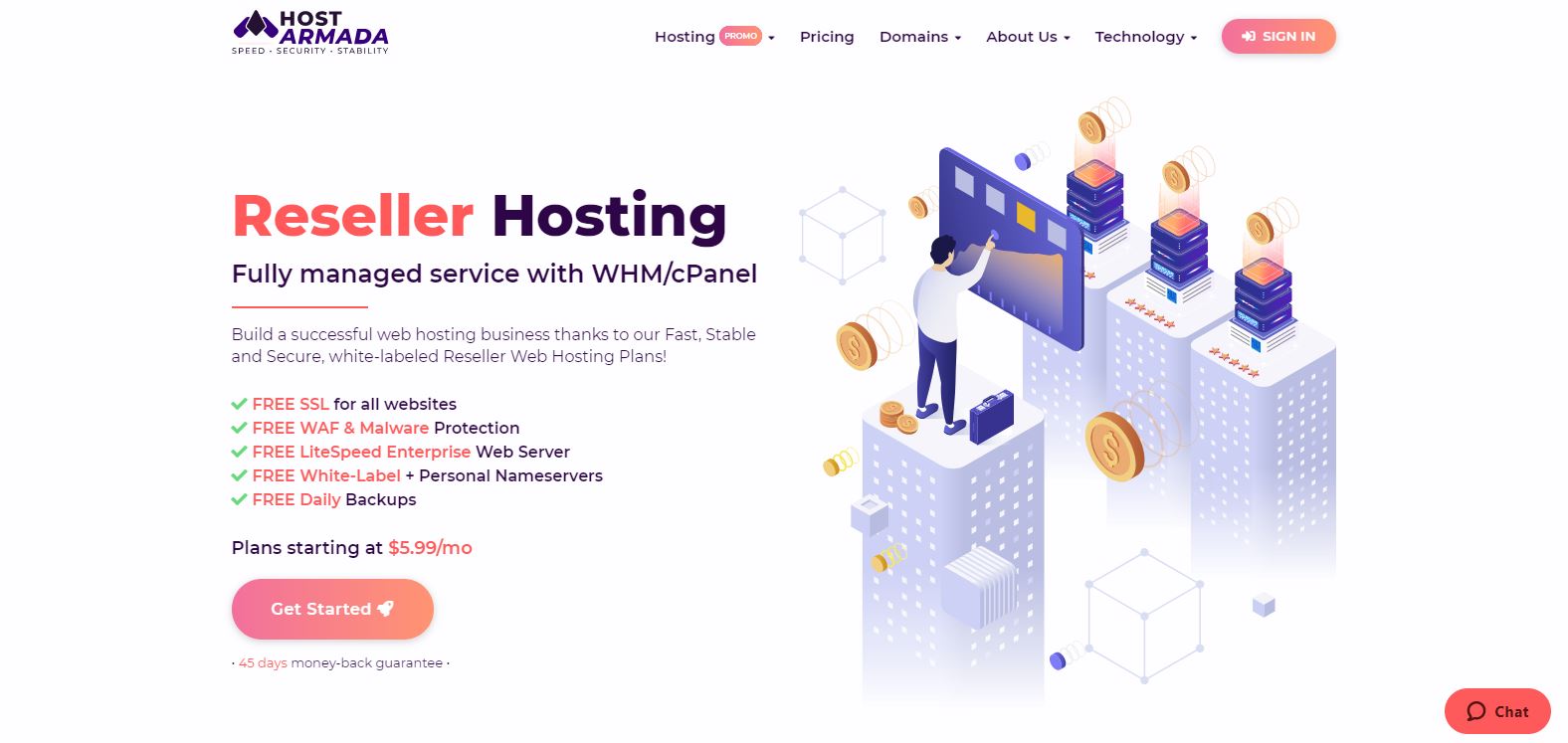 When you own a web hosting business, there comes a time in your life when you will have to set up several web hosting accounts to host your clients' sites. And when that time comes, things like server setup, control panel set up, backups, and such, might seem like a waste of your time.
You would preferably devote that time to your clients. That is why we think you will want to swipe right on this package! The Cloud Reseller Hosting package offers to handle the tech aspect while you handle the people aspect of the business.
Features:
Cloud Service with 99.9% Uptime: The package guarantees you a high uptime with a stable environment and a small number of customers per server.
WHM Access and cPanel accounts: get trouble-free management and total control of all your clients. For free.
Resource Management and Account Isolation: Gets you separate virtual environments for each cPanel account! If an infection happens, you do not have to fear that your other accounts will be compromised.
Optimized environment for WordPress: Gain access to numerous tools like WP-CLI, Staging, technical assistance for WordPress transfer, and so on. The people at HostArmada made this particular package with WordPress in mind.
This package starts at $8.99 per month, and frankly, that is a steal.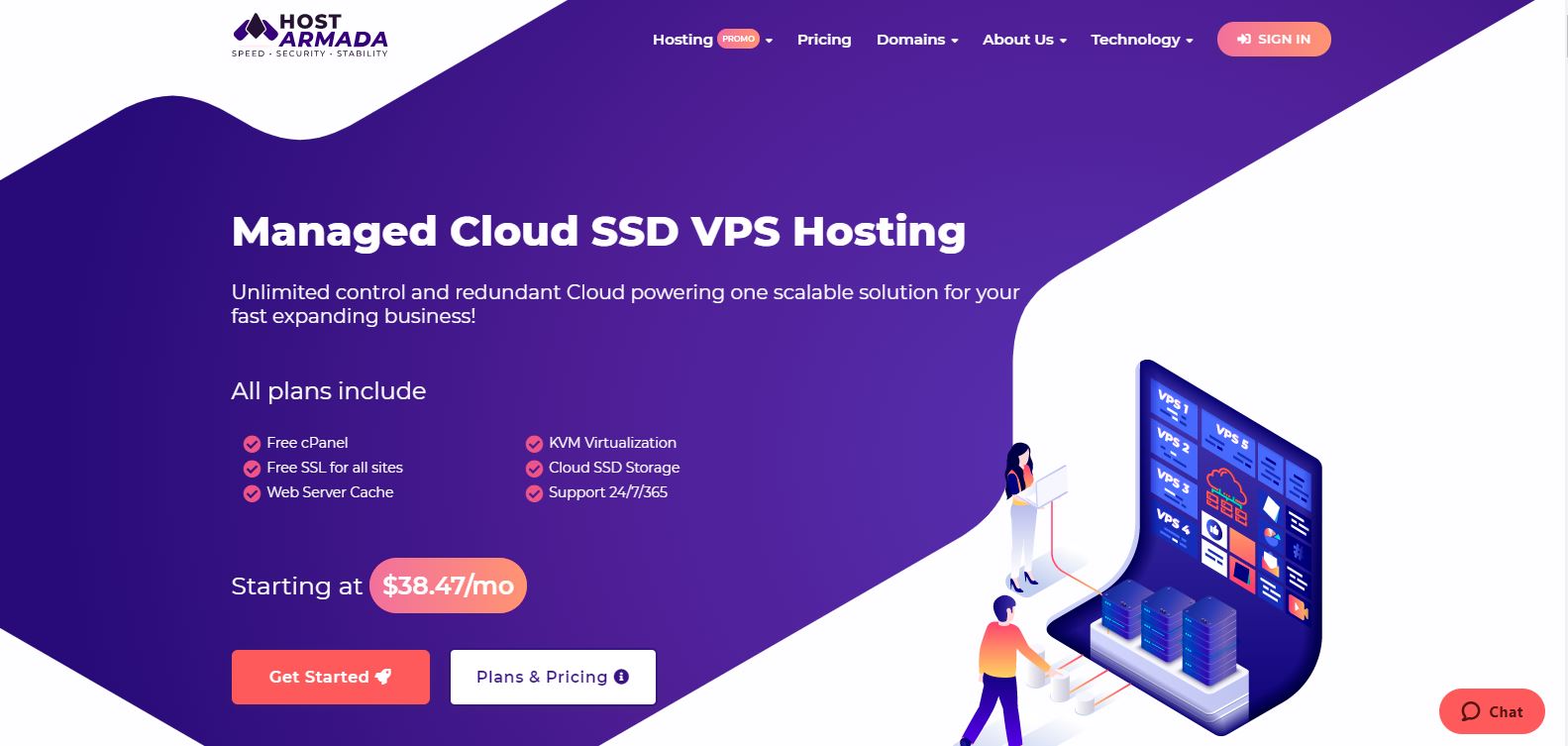 How would you imagine your perfect web hosting service? Maybe something that keeps up with all modern site needs? How about a service built entirely on the Cloud platform that offers up to 192 GB RAM, 32 CPU Cores, and 3840 GB SSD storage per server?
Then you have been imagining the Cloud VPS Hosting package. And lucky for you, it is already a reality! And what if it also offers up to 300 GB RAM per server in custom-assembled Managed High Memory Cloud SSD Hosting plans for your NodeJS applications or your NoSQL databases?
Features:
Nginx Web Server Cache: a new era of caching! Maximal website loading speed and a minimal resource usage footprint.
ROOT Access for advanced users: each plan of the Cloud VPS Hosting package has access to it
Optimal performance with latest services: swift bug fixes, prompt vulnerability patching, and a guarantee from HostArmada that their core services will stay up-to-date!
HostArmada also activates a set of internal monitoring tools with every Managed Cloud SSD VPS plan. This package starts at $41.21 per month, and it may just be the deal of a lifetime.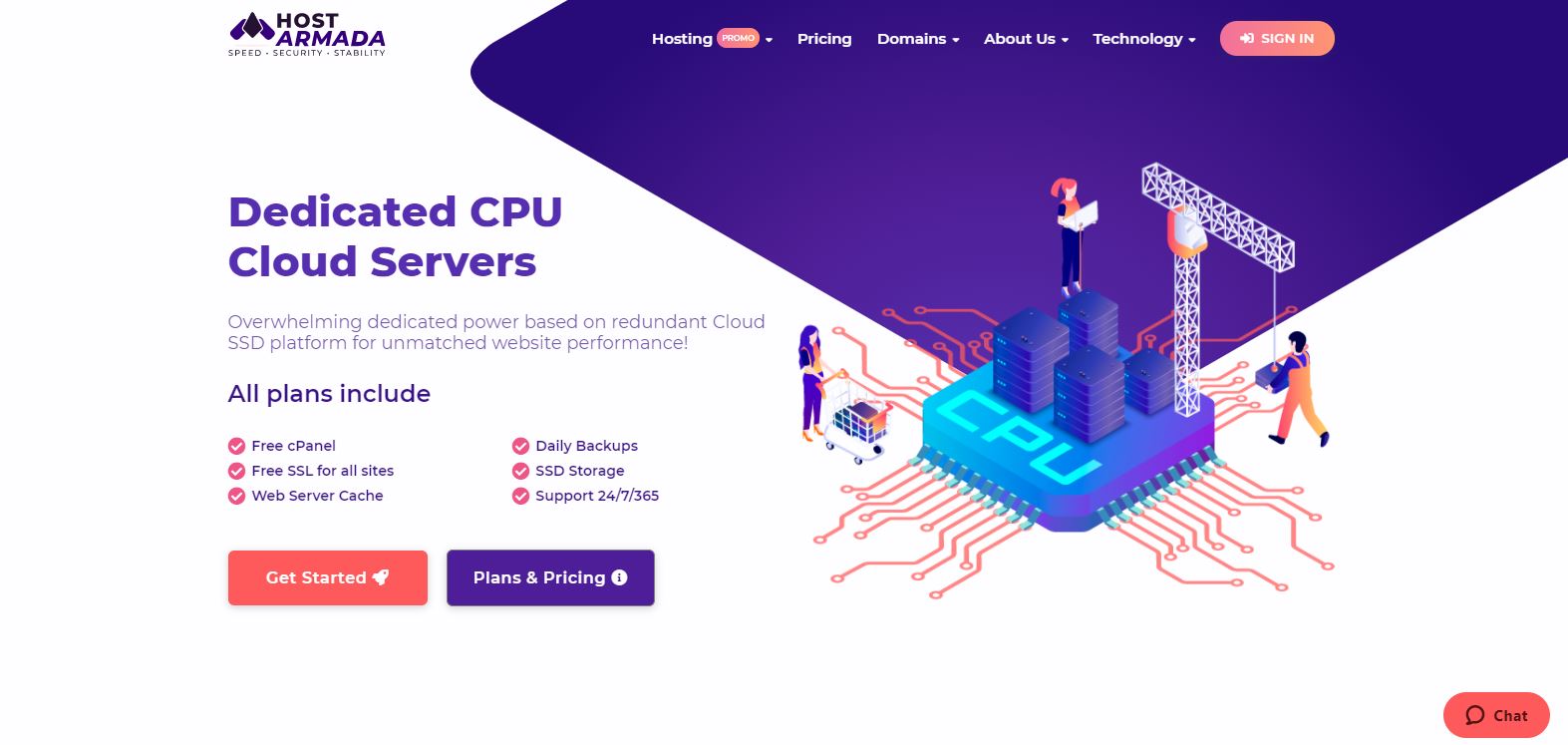 What would you say if we offered you a powerful Dedicated CPU Server that would provide you with an unmatched website performance? That's the Dedicated CPU Server Hosting package. It has multiple uses: eCommerce, the Reseller Program, standalone Database servers, dedicated email servers, high-availability load balancers, and so on! And now, you can get specs up to 96 GB RAM; 48 CPU Cores; 1920 GB SSD Storage per server! And with unlimited website transfers, you never have to worry about whether you can transfer your site from your current provider to the Dedicated CPU Server Hosting package.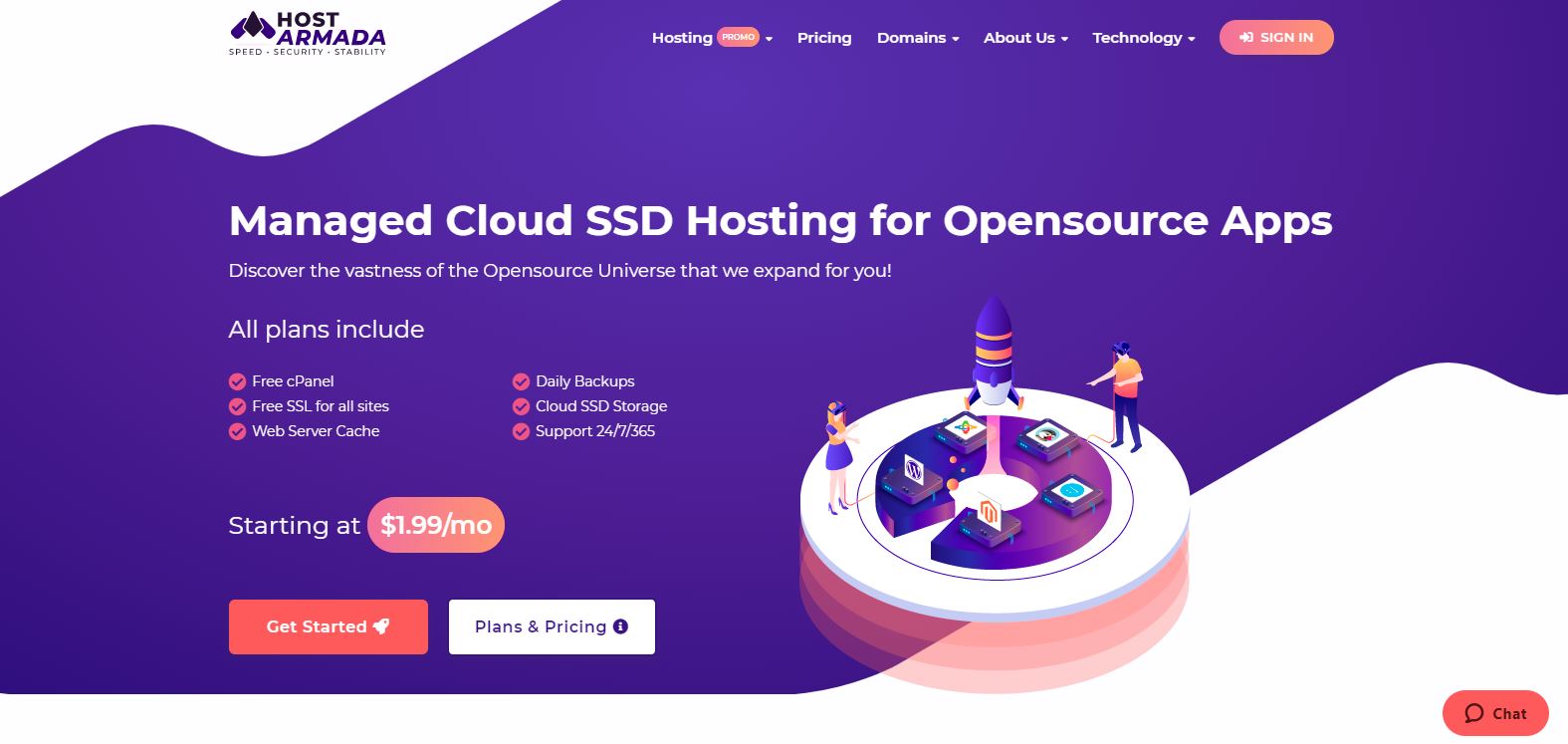 Open-source platforms. They are affordable, user-friendly, and on the rise in the digital world. And HostArmada has kept up with the trends. That is where the specially optimized web hosting environment, which meets all the requirements of modern open-source platforms, comes from.
And it came in the form of the affordable Opensource Hosting package.
As HostArmada said, get ready to discover the vastness of the Opensource Universe that they have expanded for you.
Features:
Easy to pilot service: an easy-to-use, reliable control panel is at your disposal, courtesy of cPanel
SSD Cloud Storage: Your data integrity is never a concern, thanks to native, best-in-class SSD Drives paired with battery-powered RAID controllers.
One-click Application Installation: You can configure each installation separately while deploying Applications' instances smoothly at the same time! Additionally, different application versions get individual folders for maintenance!
You can get this package for a promotional price of $2.99 per month.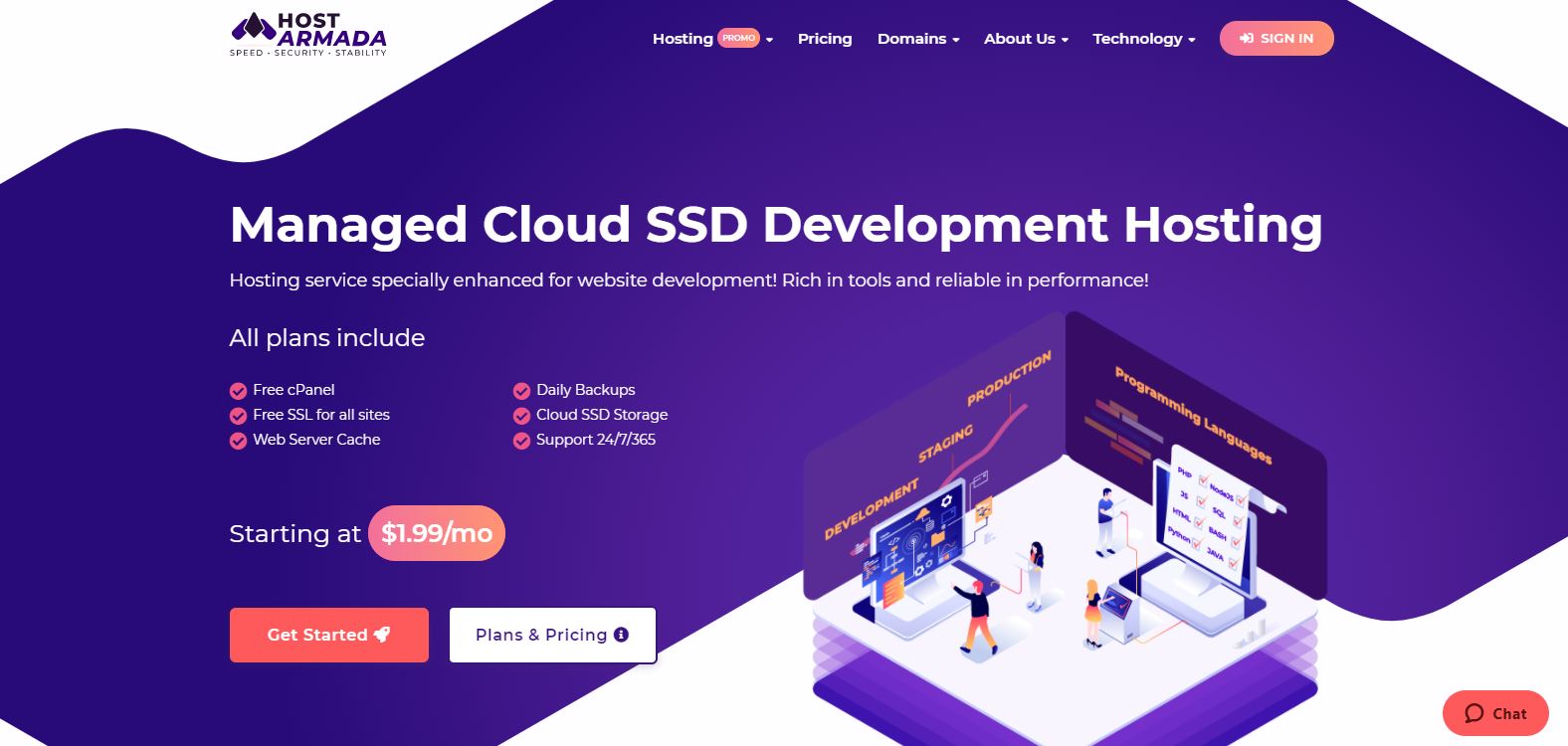 Do not think we forgot about our web development aficionados. We know you love a competitive environment for application development, and so does HostArmada.
That is why they came up with a package that offers that. But, they did not forget about application migration. With the Development Hosting package, you no longer need to migrate applications between the development and production environment. It is an all-in-one package.
Features:
Advanced Devs SHH Access: If you are a developer that needs a quick command line, this feature is for you
Optimal performance with latest services: brisk bug fixes and instant vulnerability patches
This package has a promotional price of $2.99 per month, and each plan covers Perl, Python, SSH/Bash Access, Git, Node.js, Drush, WP CLI, and PHP.
Final Thoughts
HostArmada may not be amongst the first web hosting services out there, but their package variety makes them stand out from the crowd. No matter what kind of web hosting you need, you will not be disappointed by turning to them.
They value affordability, security, and constant development, which you will want from your hosting provider. But do not take our word for it – head on over to their user-friendly website and see for yourself! It is a web-hosting service that stays up-to-date with modern site needs. And for an additional treat, take a look at their domain offers