Social media platforms are as popular as ever. The number of social media users increases daily. More than 50% of people in the world use at least one social media, which is around 90% of all internet users worldwide. Those are not just numbers but rather regular people that read, consume and follow social (media) trends and games.
To make those people members (or supporters) of your team, you should consider investing in social media marketing and using social media marketing tools. These tools can make your social media marketing campaigns simpler and smoother, which can improve your efficiency and make your brand stronger.
There are many tools that can benefit you, and sometimes it might be hard to choose the best. Here is the list of six must-have social media marketing tools to boost your marketing.
1. Postly Social Media Manager and Content Scheduler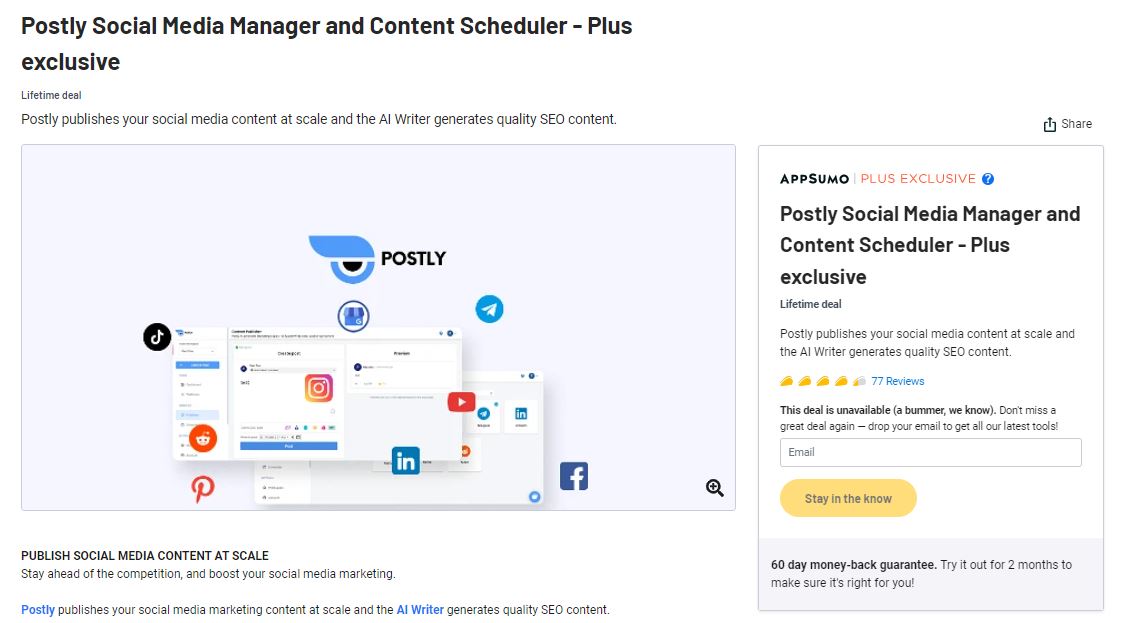 Postly is social media management tool responsible for your social media content, scheduling, and SEO ranking. It uses AI Writer to generate professional content that can easily boost your social media marketing.
Postly integrates and can publish your content on all the most popular social media platforms. It contains a Content planner with a calendar where you can drag and enter your future posts.
You can make drafts, schedule them, and share the same things across all platforms. Furthermore, Postly offers to create Instagram Carousel Posts and Twitter threads and polls from its dashboard. Also, you can upload your content in bulk fast and without any loss.
It lets you generate popular hashtags and act according to them. It collects local trends, holidays, and events and lets you create content from them. Next, with AI Writer, it lets you generate marketing copies faster and more successfully than usual.
Postly is a great deal for marketing agencies, social media managers, and marketers. It is a great alternative to Hootsuite, which is a more expensive option.
Postly has one pricing plan with lifetime access with codes to redeem. Every code offers 30 social accounts and five workspaces with unlimited team members and posts. The number of AI characters number is limited to 20,000 per month.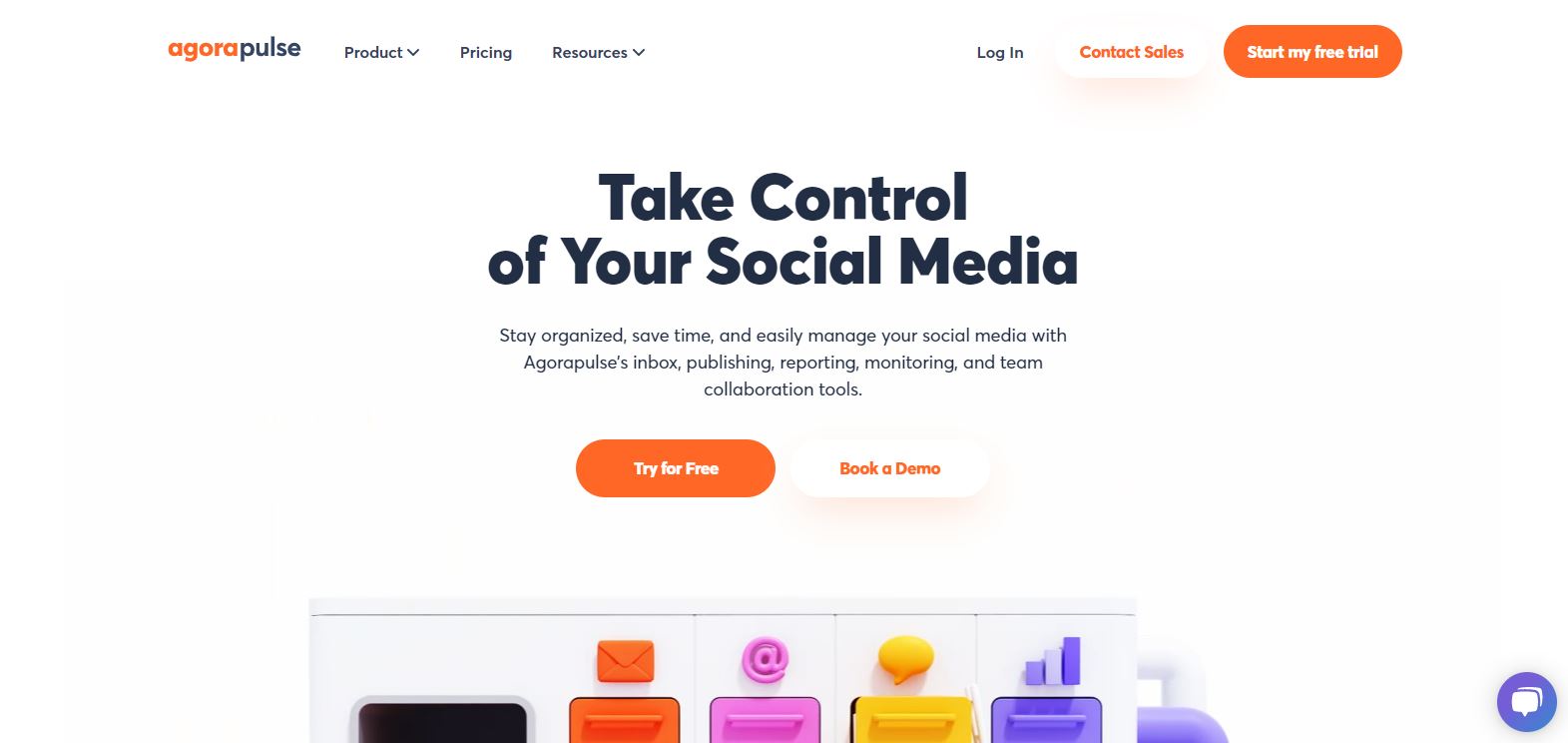 Agorapulse is a very simple social media marketing tool that integrates with all major social media platforms. It can easily control your content and all conversations with contacts and also schedule your posts.
Next, it allows you to make drafts, schedule content, and make automated publishing. It strongly encourages you to interact with your audience over simple contests, promotions, and quizzes that you can create with Agorapulse.
Agorapulse collects analytics and lets you create reports. It helps you improve your marketing strategy. The tool is a good deal for mid-sized agencies and businesses. It comes in several pricing packages with a free trial available. Its medium-pricing package costs $89/month.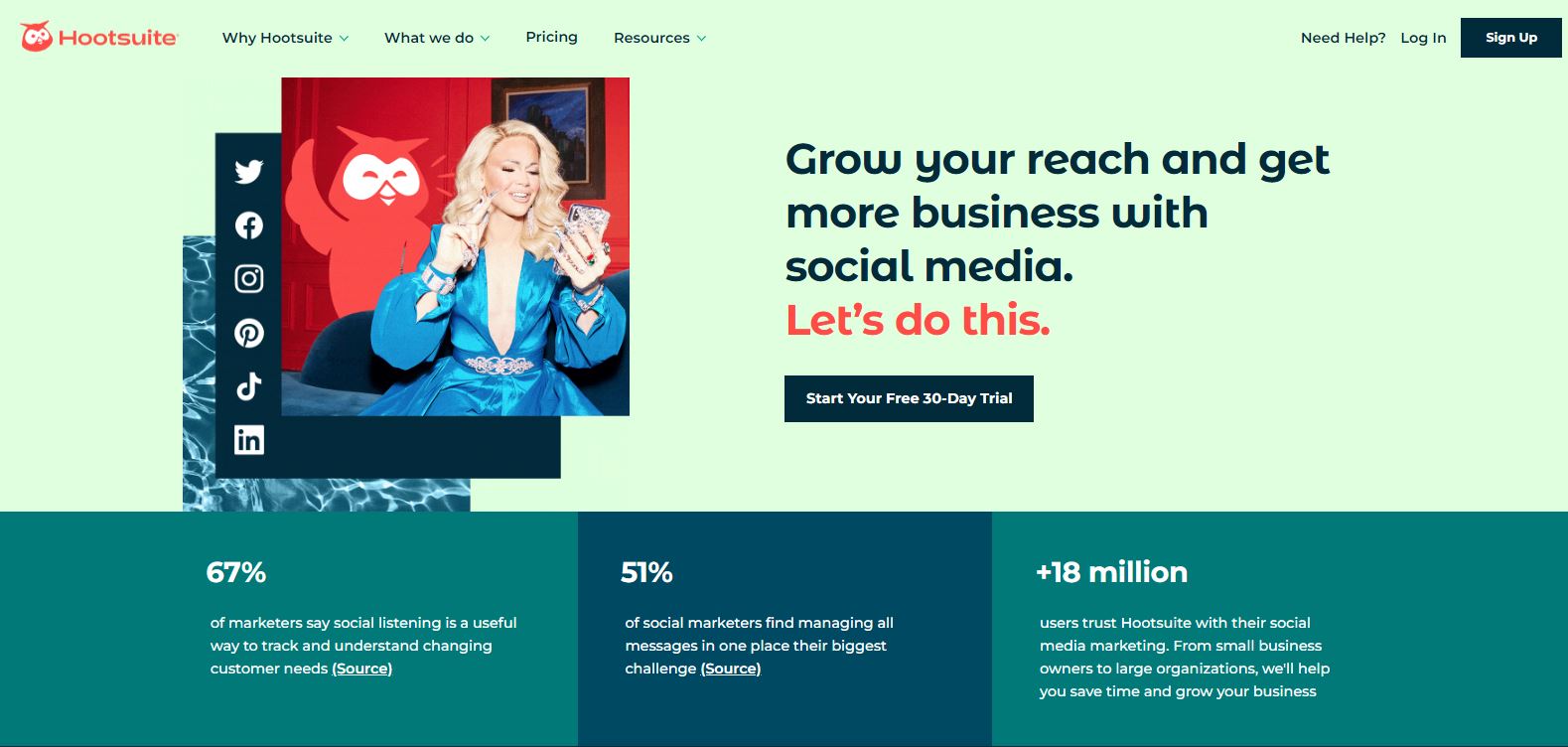 Hootsuite is one of the best tools for social media marketing. It offers strong content management with post-scheduling and bulk upload over different platforms. It lets you track keywords and hashtags to include trends in your content.
Also, it has an option for automated post publishing. Next, Hootsuite manages your contacts, conversation, and any message or comment, so never miss anything. Furthermore, it shows detailed analytics to improve future steps.
Hootsuite is well-suited for any type of business, with different pricing plans for different sizes. Its main plan starts at a price of $49.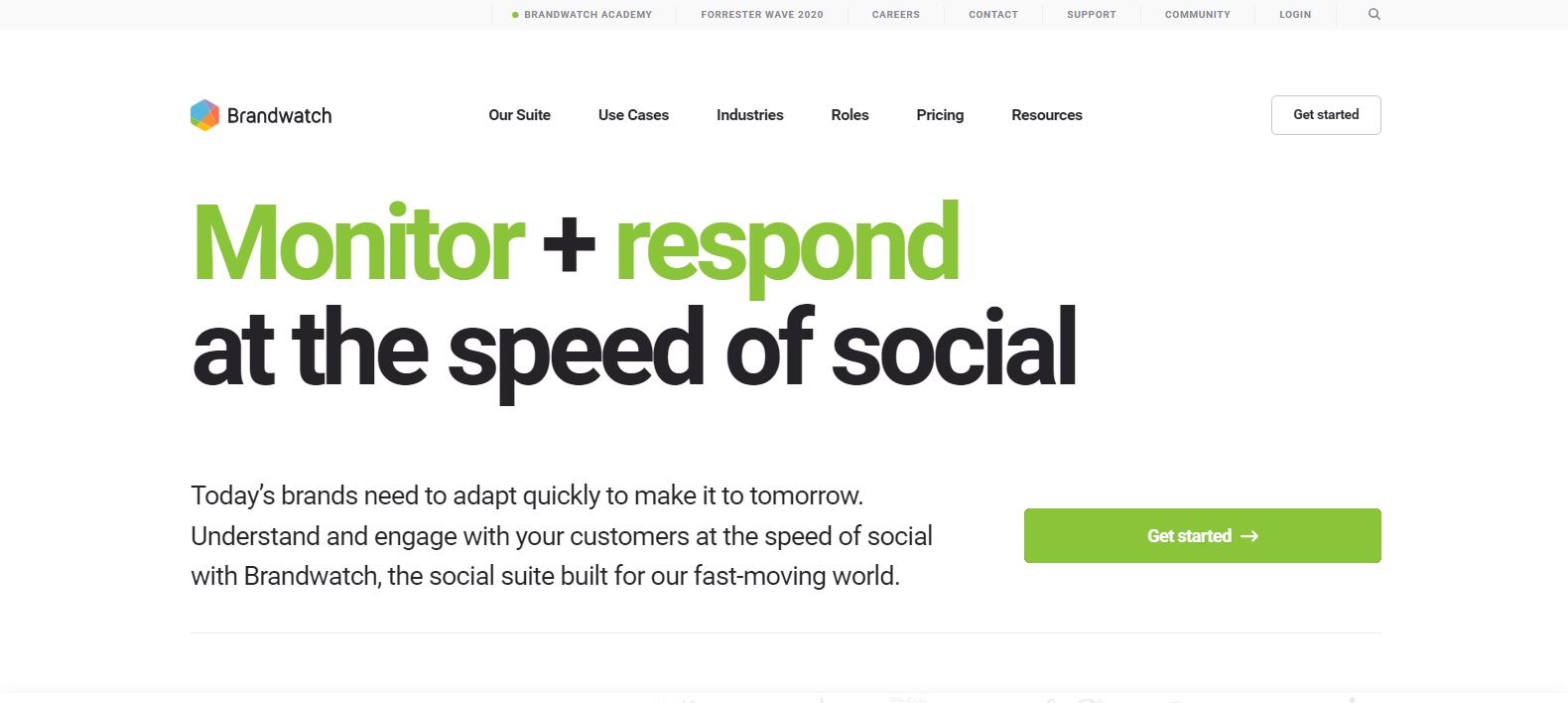 Brandwatch is an all-in-one social media tool for managing content. It lets you create, schedule, and automatically publish highly-competitive and attractive content.
It uses social listening to better understand an audience and adjust your content and product to it. Also, audience tools show insights. Brandwatch can make a deep keyword search and filtering to enhance its social media strategy.
Furthermore, Brandwatch offers an inbox option with all conversations from all platforms. The tool has analytics capabilities for strong reports.
It is an expensive option with two pricing plans.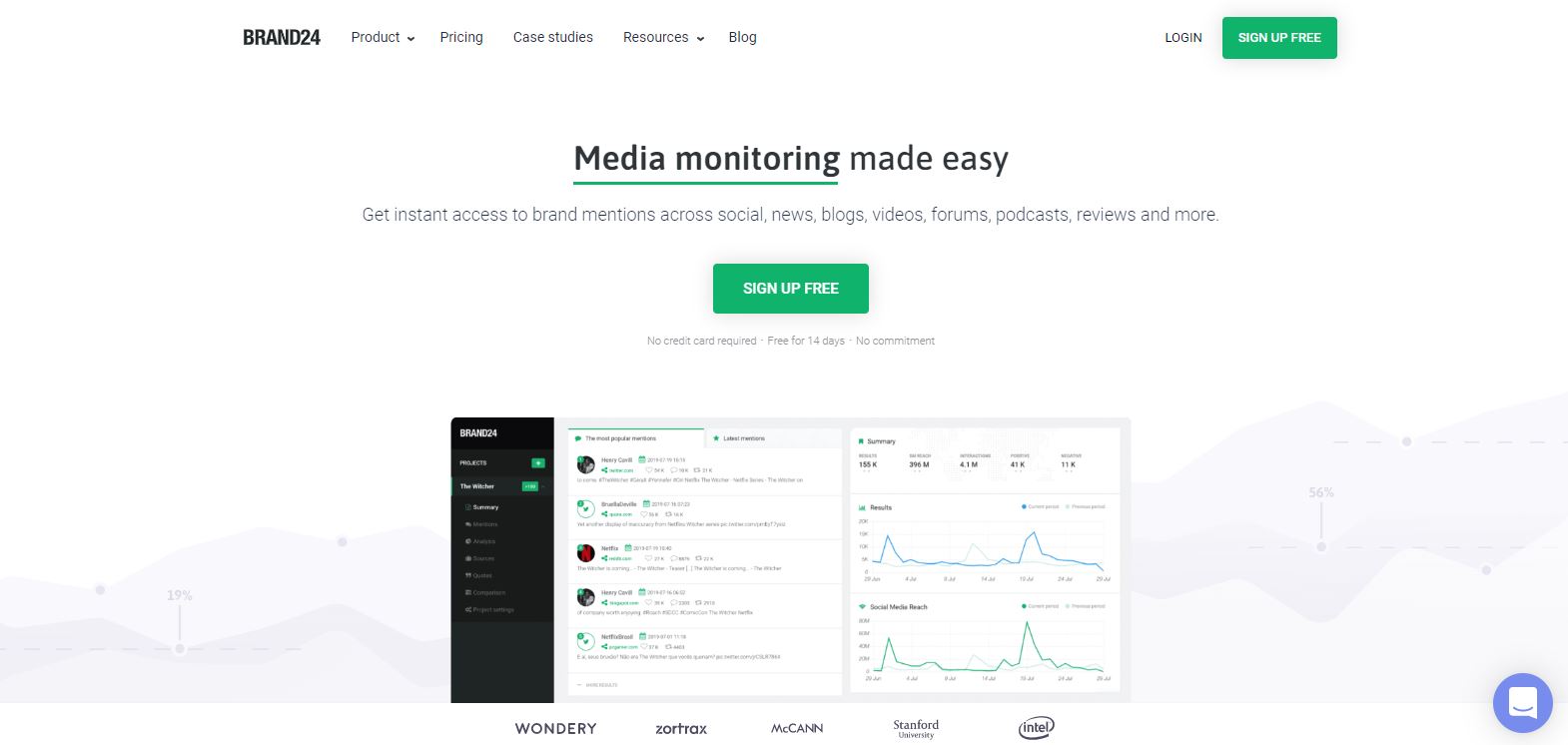 Brand24 is a simple yet very important social media marketing tool. It is specialized for listening to what the audience says about your brand. It lets you track wherever anyone mentions your brand. Furthermore, it scans and identifies influencers in your niche.
Brand24, with its simple dashboard, leads you to its strong features. It offers configurable alerts every time your brand name is mentioned. Furthermore, Brand24 strongly engages with customers and tracks its behavior based on keywords and tags. After strong and detailed monitoring, it creates competitive analysis for reports.
Brand24 is a great option for smaller brands. It has three plans with $49 as a starting price per month.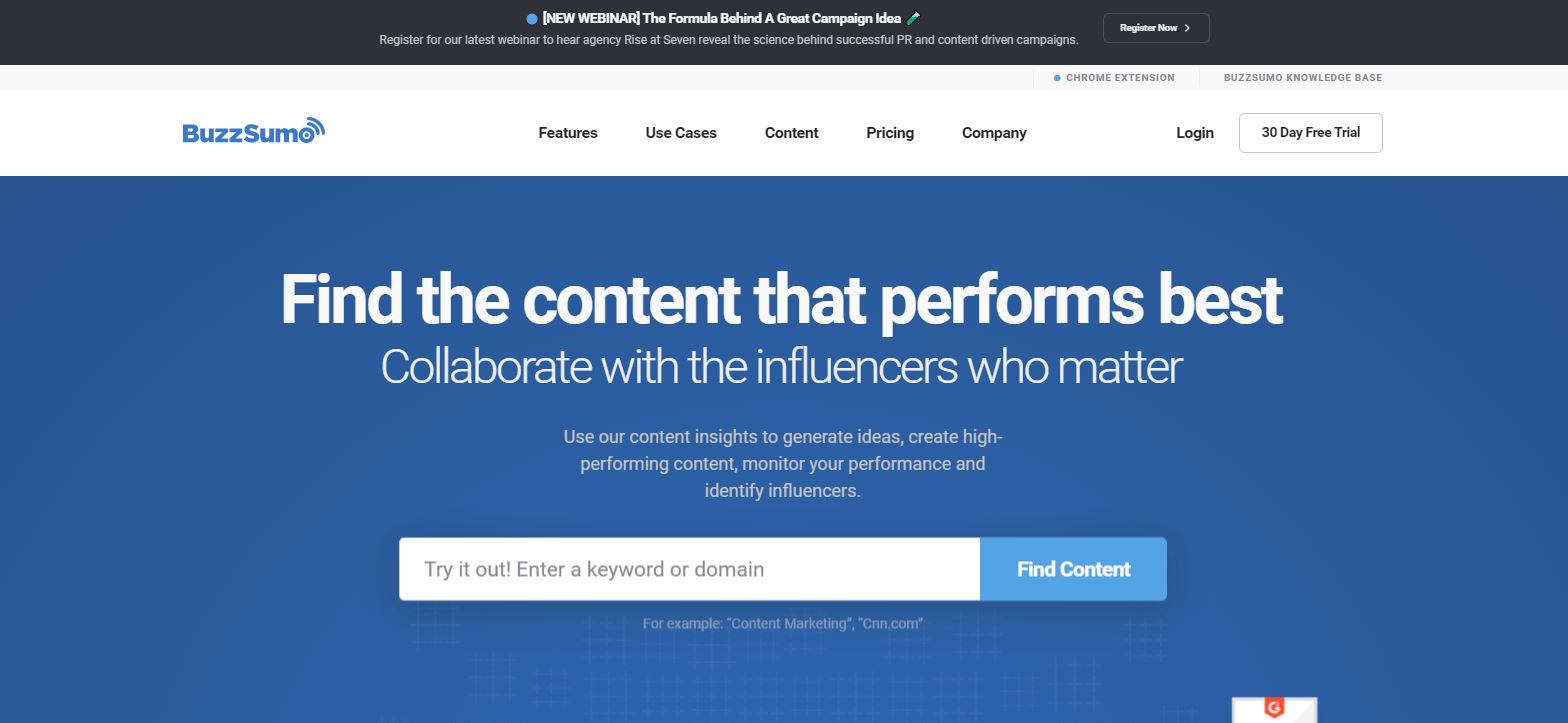 BuzzSumo is another tool for building and managing social media content. It lets you find the best and the hottest topics for your posts. It searches keywords and hashtags, as well as trending content and the most popular and influential people in your category. Also, it helps you create high-performing content.
Furthermore, BuzzSumo lets you match your content and topics to those people with a strong audience and influence in the same niche. It can positively affect your marketing.
Next, BuzzSumo does a very competitive analysis that lets you fix mistakes and improve. The tool is well-suited for agencies, brands, and publishers. It has several pricing plans with high starting prices. Its Pro version costs $99/month. However, every version has a free trial.
Final Words
Social media offer the biggest audience that should be attracted to your brand. To move toward the audience and audience toward your brand, you should use social media marketing in the right way.
It can be simple yet very professional when you use the right social media marketing tools. The right tool can help you schedule posts, find the next best content and tags, make detailed analytics for you, and more. All of that can help you grow your brand.
Postly is one of the best social media marketing tools with a very strong list of features. Check it first to see if it covers all your needs. Take the best out of that tool, and witness how your brand grows.