Use Stock Images From a Photo Download Website
Fortunately, there are a ton of websites that offer free blog photos.
And then, we'll share a list of those great sites later in this article.
With many of these photo download sites, you can simply search for a picture of your blog, download it, add it to your site, and voila! Now your blog looks amazing!
However, it is important to remember that you cannot use just any image you find on the web and there are certain circumstances that you need to keep in mind when using stock photos.
Let's take a closer look at using photos and images on your blog – officially.
Officially Using Photos and Images on Your Blog
If you use a blog you should know a few legal concepts. For example, you can't write offensive statements about people, you can't copy the works of other authors, and you can't even use any image you find.
The following is an overview of the key concepts and traps you need to know when using images on your blog.
Navigating Photo Licenses
When it comes to official photo and photo features the main thing you do is go through the various licenses attached to the photos. Each photo may be different, each photographer is different, and the results of finding it incorrect can be detrimental.
This is how it works in many places around the world: when photographing a photographer owns a copyrighted image. There are some exceptions (like hired photographers) but it is primarily a gal or a guy who took a copyrighted photo.
The photographer may then issue licenses where other persons may use the image in certain circumstances and under certain circumstances.
Bloggers actually want one of three options to choose from Royalty Free, Creative Commons and Public Domain. However, each of these has its own limitations and conditions:
Royalty Free
This is what you find on most stock photography websites. Some require you to pay a fee and some offer free blog photos that can be registered for free. You still can't sell it and there are things like not using it as part of your branding to remember.
Creative Commons
Creative Commons is actually a nonprofit organization that has come up with some licenses that allow photographers to put their property there and use it without the people making money from it. There are many different licenses (Attribution, Non Commercial, etc.) and the photographer can choose one or more. Flickr has a really good summary of everything.
Public Domain
This is where copyright is not available because it is out of date or inappropriate for copyright in the first place. Many of these images are related to government spending. Interestingly, the provision is sometimes required.
There are many other types of licenses out there.
Finding out what license the image is under can be tricky which is why it is important to get your photos from sources you trust where you are sure you know what is going on.
What You Can Do If You Don't Get It Right
Many new bloggers are asking: Is it OK to use Google Photos on a blog?
The answer is no. Please do not simply take pictures from Google Photos and think it will be fine. It may be wrong and, to be honest, it is wrong to take a photographer's work and use it without compensation.
Sadly, some photographers are making their money on court cases. They spend their time looking for improper use of their photos and then using attorney letters to get money from website owners – sometimes more than $ 5,000 per photo!
Some photographers will ask you to give credit or ask you to post a photo, which is a very kind way for bloggers you may not know. However, all of this means that it is better not to use the image unless you are sure you know, and make sure you are giving credit where it is due.
How to Avoid It
This is one of the situations in which it is better to be safe than sorry.
Do not use an image unless you know its license, and always lend credit automatically.
It is important to try to get your head around as many different options as you can and make sure that your country or country does not have different rules.
Also, if you want to be more secure and make your own photos, take your own pictures or someone made them for you using a site like 99designs.
Now that you're quick with the official features of using free photos for your blog, let's talk about how to choose the best images for your blog.
'
Best Sites to Find Free Images for Your Blog
At FreeImages, formerly known as stock.xchng, you can browse over 300,000 free images and quickly access high quality, majestic images for your blog.
You can search for FreeImages by keyword or browse through their collections to find the perfect image. Collections include food and beverage, business and finance, landscape, transportation, sports and fitness, and more.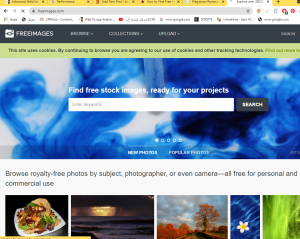 Photos on Unsplash are great, people often wonder, is Unsplash really free? Icon!
Unsplash is a great place to find free blog photos with an independent creative license or public domain. They offer a variety of great free images that you can download and use for any project, including your blog.
They have created a library of more than a million stock photos and added 10 new photos to the site every day.