A story about cash strapped contestants competing in children's games with only 2 outcomes – either $38M in cash or death in a flash. 10 reasons to watch it:
1. Ranked # 1 among Netflix's most popular shows in 90 countries.
2. An insane plot initially conceptualized in 2008 but rejected several times eventually turning into a worldwide phenomenon is enough to stir up anybody's curiosity.
3. Brilliant multitasker Hwang Dong Hyuk was both writer and director so nothing was "lost in translation", enabling the storyline to be directly translated into actions and emotions just as they had been intended by the storyteller.
4. Superb acting all around, from the lead characters to the supporting cast, even the cameo roles. It did not matter whether they are seasoned actors or rookies, superstars or not so well-known. Their acting talents were all at par. Their competencies were same level. And just how impressive were they? Well for one, Ho Yeon Jung, a first-time actress with a following of 400K on Instagram pre-Squid Game era is currently the most followed Korean actress with 18.4 million followers, and counting! If her acting was lackluster or lame then these 18 million new fans of hers wouldn't have clicked "Follow" on social media.
5. Captivating set design and enthralling art direction with minimal use of CGI for a more realistic and riveting effect.
6. Gruesome, grotesque and gory scenes are not really my thing but somehow the treatment of these scenes was done in a creatively tricky way so they did not make me close my eyes, shudder in fear and have nightmares at night.
7. Bizarre oxymoron with the most extreme contradictions. How can seemingly harmless children's games be played with blatantly harmful results? How can an innocent looking doll cause carnage or a whimsical playground transform into a bloodbath? Quite disturbing, nonetheless, impactful.
8. Genius musical score using familiar classical music to tone down the shock factor. Instead of hearing suspenseful tones as a warning that something dreadful is about to happen you hear soothingly nostalgic melodies such as "Fly Me To The Moon". Weird, but somehow it worked brilliantly.
9. Not annoyingly commercialized with no glaring product placements nor subliminal endorsements. Even the actors' screen time was not exploitative. Those in the superstar level like Gong Yoo and Lee Byung Hun had minimum exposure, while neophytes Ho Yeon Jung and Anupam Tripathi were highly visible. The creators did not have to heavily rely on A-listers to gain widespread popularity.
10. In spite it being a purely Korean presentation there were ironically no communication and cultural barriers which brought about its global appeal. It vividly showcased how human frailties and imperfections bear no nationality.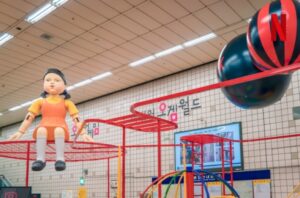 It's been about 2 days since I finished this show and it has genuinely not left my mind ever since. I usually never leave reviews on shows/movies I watch either, so me leaving one for this show speaks volumes to just how much I enjoyed Squid Game. The acting is beyond phenomenal in my opinion and evoked emotions in me that I had never felt in any other show before. (this review is spoiler free, don't worry.) Every little detail that went into the production value, the acting, the plot, the character development, the set designs, EVERYTHING was just absolutely amazing. I went into this show thinking I would mostly enjoy it and that would be it, however I did not expect it to impact me as much as it did. The hype Squid Game is receiving at the moment is very much deserved, and I HIGHLY recommend this show to anyone who hasn't seen it/needs something new to binge on. (really, I finished all 9 episodes in one sitting. over 9 hours.) I have been recommending this show to everyone I know so far and even if you aren't the biggest fan of violent/bloody shows I genuinely believe to give this one a chance, you won't be disappointed. This show has something for everyone; it's emotional, dramatic, comedic at times, and has enough blood scenes for suspense/thrill lovers to enjoy. I really cannot explain enough just how much I love this show, it's one of my favorites on Netflix now that's for sure. Kudos to the cast and team behind this show as well, they've worked so hard and all the hard work that went into production is rightfully paying off. So if you have been looking for a sign on whether or not to watch Squid Game, this is your sign.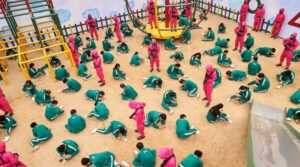 i can't even recall exactly how many times i have watched series in which the lead character turns out to be the least interesting but it's been quite a few. i would have to apply that here, but that's not to say the lead is boring or a bad actor, but that in this terrific ensemble cast he is simply outdone by many around him. combining thriller, class drama & just a wee bit of police procedural, this project manages to juggle themes of social inequality, immigration, honor, the thin veneer of "civilization", conspiracy & loyalty without dropping any of them. the sets are extremely clever, the music refreshingly tight & APPROPRIATE (esp for a korean project) & it can switch up from absurdist black comedy to incredibly grim w/o losing it's flow.
having just finished an episode that had 1 of the most moving & breathtaking interplays between 2 young women i've ever seen (not to mention other pairings), i'm hooked & am now slowing down from binging so i can watch it with my 19yo son who's about to ship off to the military. i challenge anyone not to binge-watch this in one go. it's THAT well-paced, mesmerizing & absorbing. some have posted that it's really quite graphic in it's violence; yes, but no more so than countless other films & series available today. i only gave it 4 because i couldn't give it 4.5 stars
Some of the most popular and innocent children's games in the 1970's and 1980's South Korea (played in the alleys) get reinvented (modern day) as a mysterious survival game with a 45.6 billion won cash prize for the winner. There's a catch however: losers must pay… with their lives!
As a group of 456 financially desperate people voluntarily risk their lives for the penultimate prize by participating in six twisted games Squid Game, in the words of writer-director Hwang Dong-hyuk, is a dark and macabre take on 'modern capitalism' that depicts extreme competition while still being able to incorporate emotional, dramatic & theatrical aspect to the tale.
Magnificently portrayed by Lee Jung Jae, the 'just-fired-from-job' lead protagonist alongwith the compelling characters sets the screen ablaze with commendable acting backed up by a gripping plot, stunning camerawork with flawless (art) direction (the sets are breathtakingly surreal so much so that the actors could not stop clicking photos on-set and according to some it was like being in a 'fantasy world..well beyond their expectation & imagination') accompanied by a remarkable screenplay.
An air of foreboding and enigma prevails since the very first game Red Light, Green Light (took Hwang nearly six months to write merely the first two episodes), this edge-of-the-seat binge worthy thriller is on its way to becoming the biggest non-English show on Netflix or perhaps 'our biggest show ever', says co-CEO Netflix, Ted Sarandos.
squid game red light green light,
squid game trailer,
squid game song,
squid game episode 1,
squid game behind the scenes,
squid game music,
squid game full movie,
squid game reaction,
squid game ali,
squid game ali death,
squid game animation,
squid game asmr,
squid game all deaths in order,
squid game all games,
squid game actors,
squid game acapella,
a squid game movie,
a squid game ending,
a squid game playlist,
a squid game season 2,
a squid game roblox,
a squid game red light green light,
a squid game reaction,
a squid game trailer,
squid game bloopers,
squid game bts,
squid game bridge,
squid game behind the scenes bloopers,
squid game beat,
squid game betrayal,
squid game best scenes,
how to b squid game,
squid game b roll,
squid game episode 5 b,
b t s squid game,
squid game full movie sub indonesia,
squid game sub indo,
squid game full movie sub indo,
squid game sub indonesia,
squid game cast,
squid game cookie,
squid game cookie scene,
squid game costume,
squid game cast interview,
squid game clips,
squid game candy,
squid game candy scene,
cookie swirl c squid game,
squid game c o d,
squid game c.a.r scene,
squid game c.r,
c-joy tv squid game,
c'est quoi squid game,
c quoi squid game,
squid game dub,
squid game doll song,
squid game dubbed be like,
squid game dalgona,
squid game dalgona scene,
squid game doll scene,
squid game doll sound,
squid game deok su,
the squid game,
y&d squid game,
squid game sound,
squid game bande d'annonce,
lagu d squid game,
squid game combien d'épisode,
dibalik layar squid game,
squid game ending,
squid game episode 6,
squid game explained,
squid game episode 2,
squid game episode 4,
squid game episode 6 reaction,
squid game ending explained,
tiktok e squid game,
squid game ep 1,
squid game full movie e,
squid game episode e,
squid game 2,
squid game ep 4,
squid game ep 9,
squid game e 8,
squid game fortnite,
squid game fortnite code,
squid game fly me to the moon,
squid game final game,
squid game funny moments,
squid game first game,
squid game full episode,
squid game react to y/n,
squid game of episode 1,
squid game react to fun,
squid game fmv,
roblox squid game f,
film squid game ff,
alur cerita squid game ff,
squid game game,
squid game green light red light,
squid game glass bridge game english,
squid game gacha life,
squid game game 2,
squid game gacha,
squid game green light red light song,
squid game game 3,
squid game theme song,
squid game honeycomb,
squid game honeycomb scene,
squid game honeycomb full scene,
squid game hoyeon jung,
squid game how to beat,
squid game honeycomb recipe,
squid game halloween costume,
squid game honeycomb challenge,
squid game h,
squid game song 1 h,
squid game 1 h,
squid game interview,
squid game in real life,
squid game irl,
squid game intro,
squid game in fortnite,
squid game in 3 minutes,
squid game in a nutshell,
squid game in minecraft,
i squid game real,
i beat squid game,
i play squid game,
how to play squad game in roblox,
i watch squid game,
i edit squid game,
squid game jimmy fallon,
squid game ji yeong,
squid game jersey mix,
squid game jazz song,
squid game ji yeong death,
squid game jimmy kimmel,
squid game jung ho yeon,
squid game jersey club,
j cole squid game,
squid game jhope,
bang j squid game,
squid game kill moments,
squid game kiss,
squid game korean,
squid game kinocheck news,
squid game kang sae byeok,
squid game khmer,
squid game kang sae byeok and ji yeon,
squid game kdrama,
kpop squid game,
squid game k,
squid game kdrama episode 1,
k dramas like squid game,
squid game kdrama full,
squid game kdrama full movie,
squid game full episode kdrama,
squid game last game,
squid game last episode,
squid game last scene,
squid game longbeachgriffy,
squid game love scene,
squid game lights out,
squid game late night show,
squid game lick,
boss l squid game,
kuya l squid game,
squid game l behind,
squid game full movie l,
l wanna live squid game,
squid game roblox l,
squid game doll,
squid game l official,
squid game movie,
squid game marble scene,
squid game meme,
squid game minecraft,
squid game mask,
squid game marbles,
squid game makeup,
m squad game,
squid game fivem,
squid game full m,
squid game react to m y/n,
squid game full movie m,
squid game netflix,
squid game news,
squid game noise,
squid game night fight scene,
squid game number,
squid game netflix trailer,
squid game netflix interview,
squid game noise 1 hour,
y/n squid game,
haikyuu y/n squid game,
y/n squid game gacha,
y/n squid game skit,
aot in squid game,
y/n squid game au,
male y/n squid game,
y/n squid game text,
squid game old man dies,
squid game ost,
squid game old man,
squid game old man reveal,
squid game on roblox,
squid game on jimmy fallon,
squid game opening scene,
squid game opening song,
react to squid game,
squid game episode one,
squid game tug o war,
squid game o x,
squid game tug o war scene,
ciekawostki o squid game,
como vencer o squid game,
squid game pink soldiers,
squid game parody,
squid game piano,
squid game playlist,
squid game preview,
squid game prank,
squid game pink soldiers theme,
squid game player 067,
x squad game,
squid game p,
squid game ps1,
squid game ps4,
squid game ep 3,
squid game 1080p,
squid game ps2,
squid game qpark,
squid game quirky music,
squid game quiz,
squid game questions,
squid game quotes,
squid game qartulad,
squid gaming qna,
squid game q and a,
squid game episode q,
squid game ep q,
squid gaming q n a,
squid game party,
que es el squid game,
squid game red light green light song,
squid game roblox,
squid game review,
squid game red light green light sound,
squid game reaction episode 6,
squid game red light green light english,
z squad games,
squid game episode r,
squid game r rated,
squid game music r,
squid gamer scene,
squid game r rated scene,
squid game season 2,
squid game soundtrack,
squid game song red light green light,
squid game scene,
squid game season 2 trailer,
squid game sae byeok,
squid game theme,
squid game tug of war,
squid game tiktok,
squid game theory,
squid game type beat,
squid game tug of war scene,
t squad game,
squid game t shirt,
squid game t shirt roblox,
squid game full movie t,
squid game episode t,
squid game episode 4 t,
squid game ep 4 t,
squid game umbrella,
squid game unmasked,
squid game unfolded,
squid game under the mask,
squid game unmasked guard,
squid game usa,
squid game uk drill,
squid game umbrella shape,
thank u squid game,
thank u squid game meme,
good 4 u squid game,
u betrayed me squid game,
squid game u,
squid game things u missed,
squid game episode u,
squid game are u satisfied,
squid game vr,
squid game video game,
squid game vogue,
squid game voting scene,
squid game vip old man,
squid game vrchat,
squid game voice,
squid game vr 360,
v squad gamer,
v squid game bts,
gta v squid game,
bts v squad game edit,
gta v squid game outfit,
jin and v squid game,
v star squid game,
squid game video edit,
squid game winner,
squid game way back then,
squid game wake up song,
squid game wi ha joon,
squid game workers,
squid game winner scene,
squid game wallpaper,
squid game with jimmy fallon,
squid game episode w,
squid game season w,
squid game w,
jak przetrwać w squid game,
gramy w squid game,
gram w squid game,
oco chodzi w squad game,
kto wygrał w squid game,
squid game x dream smp animatic,
squid game x y/n,
squid game x listener,
squid game x dream smp,
squid game x dsmp animatic,
squid game x roblox codes,
squid game x fortnite,
squid game x haikyuu,
x squid game text,
haikyuu x squid game,
danganronpa x squid game,
mha x squid game,
mcyt x squid game,
dsmp x squid game,
yn x squid game,
dream smp x squid game,
squid game ytp,
squid game y/n,
squid game yogscast,
squid game young hee,
squid game youtubers,
squid game yaboyroshi,
squid game you choose,
squid game yoo mi,
squid game gacha y/n,
squid game ft y/n,
squid game circle x y/n,
squid game haikyuu x y/n,
squid game reaction to y/n,
squid game zombie,
squid game zumba dance,
squid game zepeto,
squid game zadlan,
squid game zodiac signs,
squid game zachary,
squid game zero budget,
squid game zwiastun,
zbing z squid game,
squid game z,
squid game gen z,
squid game z squad,
squid game cinema z recap,
piosenka z squid game,
ciastka z squid game,
piosenka lalki z squid game,
squid game 067,
squid game 067 death,
squid game 001 death,
squid game 001,
squid game 067 and 240,
squid game 067 clips,
squid game 069,
squid game 067 and 240 scenes,
squid game episode 0,
squid game 0,
squid game part 0,
squid game 1st game,
squid game 15 things you missed,
squid game 101,
squid game 101 death,
squid game 1×6 reaction,
squid game 199 death,
squid game 101 and 212 bathroom,
squid game 1×1 reaction,
episode 1 squid game,
ep 1 squid game,
player 1 squid game,
part 1 squid game,
player 1 squid game death,
episode 1 squid game full episode,
round 1 squid game,
season 1 squid game,
squid game 2nd game,
squid game 240 death,
squid game 212,
squid game 2 trailer,
squid game 240,
squid game 2021,
squid game 29,
squid game 218,
season 2 squid game,
episode 2 squid game,
season 2 squid game trailer,
season 2 squid game blackpink,
episode 2 squid game english,
episode 2 squid game full episode,
level 2 squid game,
round 2 squid game,
squid game 3 minutes summary,
squid game 360,
squid game 3rd game,
squid game 3d pen,
squid game 3 minutes,
squid game 324,
squid game 3am,
squid game 3 episode,
3 squid game rules,
episode 3 squid game,
episode 3 squid game english,
episode 3 squid game english sub,
season 3 squid game,
episode 3 squid game reaction,
final 3 squid game,
round 3 squid game,
squid game 4th game,
squid game 456,
squid game 4 episode,
squid game 4 reaction,
squid game 4k,
squid game 456 wins,
squid game 456 player,
squid game 456 death,
episode 4 squid game,
ep 4 squid game,
episode 4 squid game english,
episode 4 squid game full episode,
ep 4 squid game toilet,
episode 4 squid game english sub,
episode 4 squid game eng sub,
ep 4 squid game scene,
squid game 5th game,
squid game 5 episode,
squid game 5 minutes,
squid game 5 more,
squid game 5 reaction,
squid game 5 episode english,
squid game 5th episode,
squid game 5 hours,
episode 5 squid game,
episode 5 squid game english sub,
episode 5 squid game full episode,
episode 5 squid game eng sub,
round 5 squid game,
episode 5 squid game recap,
episode 1-5 squid game,
level 5 squid game,
squid game 67,
squid game 67 death,
squid game 6 reaction,
squid game 6th game,
squid game 69,
squid game 6 episode,
squid game 67 scenes,
squid game 67 and 240,
6 squid games,
episode 6 squid game,
ep 6 squid game,
episode 6 squid game english,
episode 6 squid game full episode,
episode 6 squid game reaction,
episode 6 squid game english sub,
season 6 squid game,
squid game 7 episode,
squid game 7 reaction,
squid game 7th game,
squid game 7 episode english,
squid game 7 english,
squid game 7 ep,
squid game 70,
squid game 76,
episode 7 squid game,
ep 7 squid game,
episode 7 squid game english,
episode 7 squid game english sub,
episode 7 squid game eng sub,
season 7 squid game,
episode 7 squid game reaction,
episode 7 squid game english subtitles,
squid game 8 reaction,
squid game 8 episode,
squid game 8 eng sub,
squid game 8 episode english,
squid game 8th game,
squid game 8th episode,
squid game 8 full movie,
squid game 8 សម្រាយរឿង,
8 squid game facts,
episode 8 squid game,
episode 8 squid game english sub,
episode 8 squid game reaction,
season 8 squid game,
episode 8 squid game tagalog,
episode 8 squid game recap,
episode 8 squid game death,
squid game 9 episode,
squid game 9 reaction,
squid game 96,
squid game 9 english,
squid game 9 eng sub,
squid game 9 full episode,
squid game 9 episode english,
squid game 9th game,
episode 9 squid game,
episode 9 squid game english,
episode 9 squid game full episode,
episode 9 squid game english sub,
episode 9 squid game eng sub,
episode 9 squid game explained,
episode 9 squid game full movie,
ep 9 squid game reaction